The annual Bud Light Rocks the Boat Free Concert Series lineup has been announced and Steamboat is in for another exciting, energy-filled music season. With seven top artists set to hit the Steamboat Stage in Gondola Square throughout March and April 2022, locals and visitors won't be able to resist the dance party at the base after a long day of skiing Steamboat's famous champagne powder. Beer tents, food trucks, and local vendors set up throughout the base. All concerts will begin at the ideal après ski time of approximately 3:30pm and be held on Saturdays.
Pro Tip: Grab the whole family and show up a little early to snag some of the best seats in the square on Timber and Torch's patio directly facing the stage!
For more information, check out Steamboat.com/concerts.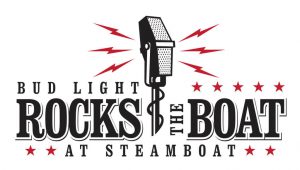 The following outlines the full schedule of concerts as part of the Bud Light Rocks the Boat free concert series:
SCHEDULE & BAND LISTING
Digging Dirt – Saturday, March 5th 2022
This seven-piece band Humboldt County, California is rocking through the West Coast music scene. Shoveling out their own path, and consistently wowing audiences and filling concert venues, Diggin Dirt is no ordinary funk and soul band. Their sounds are fueled by a blazing horn section, pulsating rhythms, and searing guitars, that when combined into one, have been known to create the ultimate dance party. Tying it all together, is the band's frontman, with a natural-born-soul, backed by the band that layers influences of psychedelic rock, Motown soul, Afrobeat, and even reggae, atop a foundation of late 60's inspired funk music.
Buffalo Commons – Saturday, March 12th 2022
Formed in 2017, Buffalo Commons is a Steamboat Springs, Colorado grown project that moves the souls of all in the room. Harmonizing vocals, and tight musicianship has sling-shot the band into the Colorado Music scene with a huge infectious energy and incredible loyal and fun-loving "Herd" of fans behind them. Prepare to be captivated by singer/songwriter + guitarist Tyree Woods' soulful yet powerful voice and Denton Turner's upright bass playing. Band members Eric Baker on mandolin, Randy Kelley on fiddle, Dan Harris on banjo, and Tyler Cain on drums provide a full-bodied sound that matches the emotion and intensity of Tyree's vocals. With original music, well-developed compositions and arrangements, Buffalo Commons stands out as a unique sound in acoustic music.
MarchFourth – Saturday, March 19th 2022
MarchFourth is a joy-inducing force of entertainment. The colorful explosion of brassy funk, rock, and jazz is all about the groove. This larger-than-life group of musicians and acrobats tours the country year-round, bringing a spirit of celebration wherever they go. Fifteen MarchFourth musicians traveled from Portland, Oregon to New Orleans, Louisiana to record their fourth studio album, MAGIC NUMBER, self-released in September 2016. With Producer Ben Ellman (Galactic) and Engineer/Producer Mikael "Count" Eldridge (DJ Shadow, Tycho, Trombone Shorty) at the helm, the album is full of the captivating grooves and brassy swagger you'd expect from MarchFourth, plus a healthy dose of New Orleans magic, with guest appearance by Trombone Shorty, Stanton Moore (drums), and Matt Perrine (sousaphone).
Con Brio – Saturday, March 26th 2022
Con Brio is a San Francisco Bay Area seven-piece band that plays energetic soul, psych-rock and R&B. Founded in 2009 and named for an Italian musical direction meaning "with spirit", the band is renowned for their electric live show, which has kept them in demand at clubs from Tokyo to Amsterdam, and on festival stages from Austin City Limits to Lollapalooza to Byron Bay Bluesfest in Australia. Collectively operated and constantly evolving, Con Brio is a creative hub for some of the Bay Area's most gifted veteran musicians. As of 2021, Con Brio features singer Sarah Clarke — known for her vocal range and magnetic stage presence — as well as guitarist Benjamin Andrews, keyboardist AJ McKinley, trumpeter Brendan Liu, saxophonist Marcus Stephens, bassist Jonathan Kirchner and drummer Andrew Laubacher.
Big Sam's Funky Nation – Saturday, April 2nd 2022
'Big Sam' Williams is a trombonist and band leader from New Orleans, Louisiana. He has been a member of the Dirty Dozen Brass Band and leads Big Sam's Funky Nation. In his youth he studied with saxophonist Kidd Jordan and at New Orleans Center for Creative Arts. In his teens, Williams was a founding member of the Stooges Brass Band and joined the Dirty Dozen, allowing him to play with Karl Denson, Dave Matthews, Widespread Panic, and James Brown. After one year with the Dirty Dozen, he began a side project broadening his musical ambitions. Big Sam's Funky Nation is primarily a funk and rock band that has elements of traditional jazz, contemporary jazz, acid jazz, dance, hard rock, and punk.
Magic Giant – Saturday, April 9th 2022
Called "the most festive band in the festival circuit," this American alt-rock band was formed in Los Angeles in 2014 with a style similar to Imagine Dragons, Walk the Moon, The Lumineers, and Mumford & Sons. Their live show can be described as "joyful and inspiring of mass dance-alongs" with multiple TV appearances including The Today Show and Good Morning America. The group has thrilled growing crowds along its 80-city North American and European tour, with their music charting in countries worldwide from Greece to South Africa. Debuting in 2017 with their LP In The Wind, MAGIC GIANT, came out of the gates swinging, with TV appearances ranging from the Today Show to Good Morning America, and Billboard singling them out as one of "10 Awesome Bands" playing Coachella, with their show turning out to be part of the most watched live-stream in history. Their latest single, "My My," off their sophomore and upcoming studio album, not only symbolizes the deep and heavy chasm of the pandemic but the optimism of getting out of it.
Dumpstaphunk – Sunday, April 10th 2022
Dumpstaphunk stands out amongst New Orleans' best, cementing themselves as one of the funkiest bands to ever arise from the Crescent City. Born on the Jazz & Heritage Festival stage, and descended from Neville and Meters family bloodlines, these soldiers of funk ignite a deep, gritty groove that dares listeners not to move. Their performances combine ingenious musicianship through complex funk, rock, and jazz arrangements accompanied by soulful melodies and Big Easy traditions.
For more info about Steamboat Springs, CO check out these other great resources: