Wow, Steamboat Resort is looking pretty different nowadays! Steamboat Ski & Resort Corporation is moving full steam ahead with the second phase of its $200 million, multi-year transformation, including a major facelift to the base area and to the mountain.
Renovations began in spring 2021 with the demolition of the Gondola building, relocation of the lower gondola terminal and the addition of escalators from the resort's main entrance to Steamboat Square. Full Steam Ahead will definitely continue through summer 2022 and into winter 2022/23 (see our timeline below.) So read on to see how these changes are developing, and how it may affect your Steamboat vacation.
Full Steam Ahead aims to pay homage to Steamboat's rich Western heritage while reimagining both the guest and staff experience on (and off) the mountain. The project will transform the base area into a multi-use, amenity-rich plaza creating an easy-to-navigate resort entrance, and eliminating multiple levels of cumbersome stairs in the once confusing maze into Steamboat's Base Area. Steamboat Square is also planning on having additional dining and après, shopping, entertainment, and welcoming gathering places for guests to enjoy year-round. What a difference a year can make!
Priorities for 2022/2023 include Wild Blue Gondola, Greenhorn Ranch, and the Indoor/Outdoor Food Pavilion & Hall. Learn more about The Full Steam Ahead Project HERE.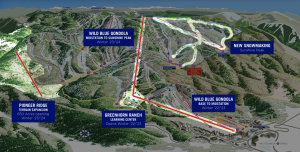 2022 SUMMER
ALL SEASON
Phase 2
Lower leg of Wild Blue Gondola construction
Ice rink under construction
New shops & restaurants built
Greenhorn Ranch snowmaking, magic carpets & lunch center installed
Relocation of Christie Peak Express Chairlift base terminal
Underplaza Creekside Level Building completion
Demolition & of Outlaw Mountain Coaster & mini-golf course
2022/23 WINTER
NOVEMBER 2022
Phase 3
Greenhorn Ranch Learning Center opens
The Range Food & Drink Hall opens
Ice rink opens (transitions to events lawn during summer season)
Wild Blue Gondola lower leg opens
Christie Peak Express open at new base location between Steamboat Gondola and Wild Blue Gondola
2023 SUMMER
MAY – OCTOBER 2023
Phase 4
Wild Blue Gondola upper leg Construction
Pioneer Ridge & Fish Creek Canyon terrain work
Installation of Pioneer Ridge chairlift
Snowmaking expansion in Sundown and Sunshine areas
2023/24 WINTER
NOVEMBER 2023
Phase 5
Wild Blue Gondola upper leg opens
Pioneer Ridge & Fish Creek terrain expansion opens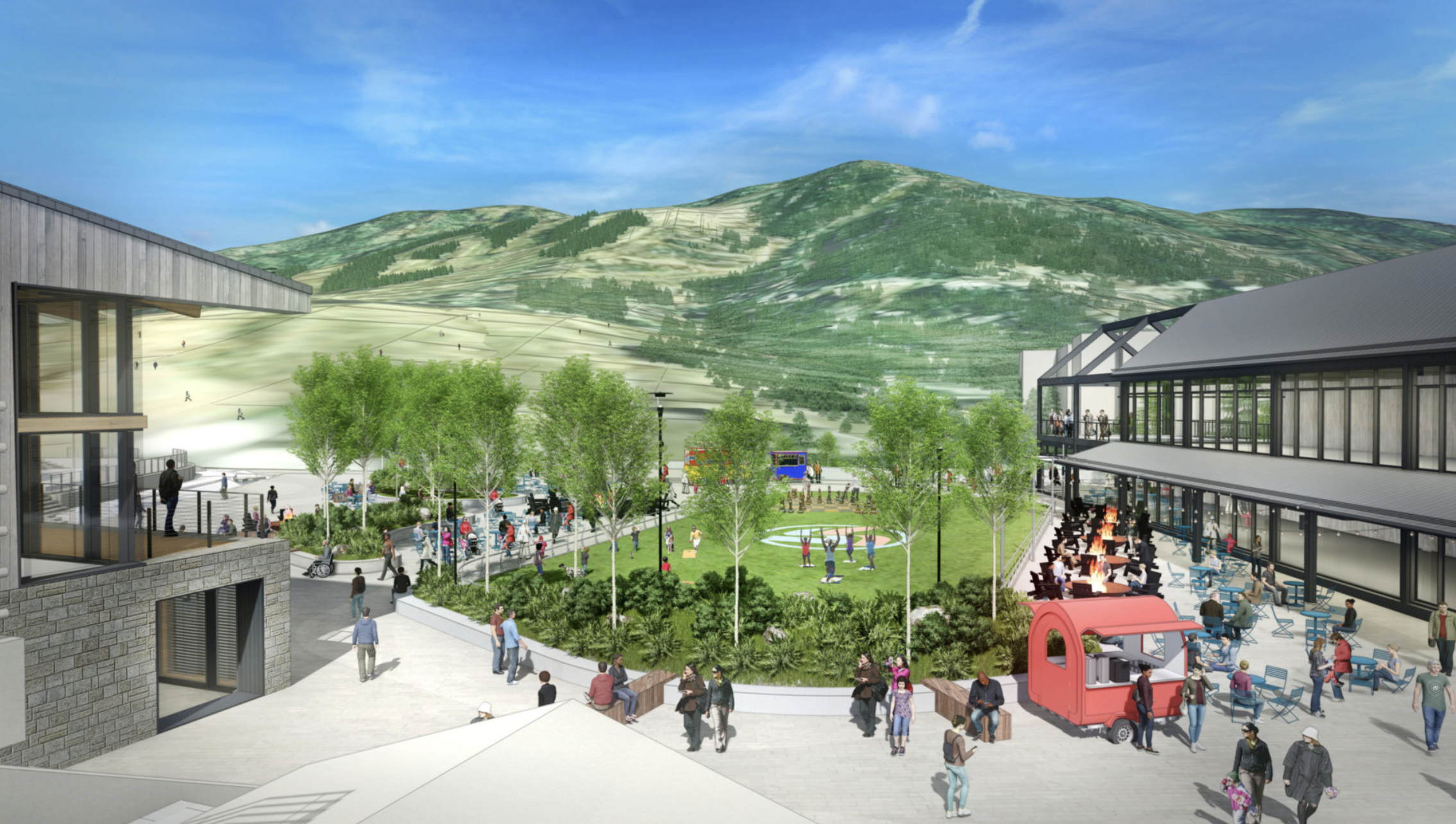 From the Resort – April 2022:
While Steamboat has been shaped by its rich past, it's time for the resort to move full steam ahead into the future. The reasons behind these renovation choices were extensive, however it comes down to the resort's base area needing a facelift. The base became outdated and no longer met the needs or expectations that Steamboat is known for, and the flow became worse year after year. Steamboat's investing on and around the mountain, and adding amenities that are sure to delight year-round. This massive redevelopment will firmly establish Steamboat as one of the premier resort destinations in the world for decades to come.
The second year of Steamboat's Full Steam Ahead project will begin spring 2022 after the resort closes for the winter season, and will infuse nearly $100 million into the world-class resort including a second Gondola, a new beginner's area and base area amenities. Additionally, the resort will invest $5.4 million in upgrades to existing resort infrastructure including other on-mountain improvements, employee housing, and more.
"It's hard to imagine a summer more exciting than last year, but Phase II promises to bring even bigger changes to the resort," said Rob Perlman, president and COO of Steamboat Ski & Resort Corporation. "These significant resort improvements will enhance the overall experience for our staff, guests and community building upon our strong brand and industry leading guest service."
Steamboat Square's facelift continues with the addition of Skeeter's Ice Rink in the heart of the square and The Range Food & Drink Hall, featuring four new eateries with a variety of options for resort guests. In the tradition of great food halls around the world, the Range will open with Sunshine Bowl Ramen, Twister Tacos, Why Not Sweet Spot and Pioneer Pie on the main floor.
Each floor will have a full bar, with the second-floor bar featuring an outdoor deck space overlooking Steamboat Square and the resort's lower mountain. Additionally, amenities lining the Promenade will include a new Patrol base, bathrooms, lockers, and a new home base for Steamboat Adaptive Recreational Sports (STARS) on-mountain operations.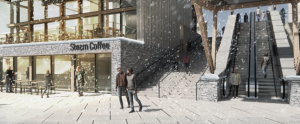 ON MOUNTAIN IMPROVEMENTS
A Top-to-Bottom Gondola
The new Wild Blue Gondola will be the longest gondola in North America and the fastest 10-person gondola in the country. With the lower leg opening in 2022/23, and the upper leg opening in 2023/24, the state-of-the-art gondola will feed skiers & riders through a newly created mid-station adjacent to Bashor bowl with the final destination at the top of Sunshine Peak. Across the promenade from Steamboat Square, the lower terminal of Christie Peak Express lift will be shifted to the south to make room for the lower terminal of Wild Blue.
During Full Steam Ahead Phase II, the lower leg of Wild Blue Gondola will be completed to Greenhorn Ranch, spanning 4,212 feet with 54 cabins and about a 5-minute ride time. Eventually, Greenhorn Ranch will serve as the mid-station for the Wild Blue Gondola, where it will extend its journey to the top of Sunshine Peak providing direct base area access to the resort's most popular terrain.
The second leg is scheduled to be completed for the winter 2023/24 season. At a total length of 3.16 miles, the new gondola will increase the out of base capacity from 6,000 people per hour to 10,000 people per hour, getting skiers from bottom to top in 13 minutes.
Learning Center for All
Known as one of the best family resorts in the world, Steamboat's new beginner's area Greenhorn Ranch will redefine the first timer's experience by whisking skiers and riders to 7,513 feet to start their mountain adventure.
Instead of keeping first time skiers and riders in the base area out of convenience, as many resorts do, Steamboat's beginners will be immersed in the mountains immediately. Greenhorn Ranch will feature one lift, four beginner magic carpets, 30 snow guns on 14 acres of terrain-based learning utilizing the re-graded terrain to teach skiers and riders. Students of Steamboat SnowSports School will have access to the Greenhorn Ranch Sprung Structure for lunch and a convenient warming hut.
Pioneer Ridge
Pioneer Ridge is the area just outside of Pony Express that has historically remained an unpatrolled area out of bounds. This area will add 650 acres of expert/advanced terrain, making Steamboat the 2nd largest ski resort in Colorado (from the 5th largest currently). This adventurous, gladed terrain will open in Winter 23/24 and be serviced from a new chairlift.
Enhanced Snowmaking
In addition to Full Steam Ahead, Steamboat will invest more than $2 million in on-mountain improvements to snowmaking, lift maintenance, ski patrol equipment and mountain machinery including 2 new tier 5 snowcats which reduce NOx emissions by 90 percent and particulate matter by 75 percent over a tier 4 engine. The resort will also demo hybrid snowcats to understand their sustainability in cutting fuel use and increasing energy efficiency to our on-mountain fleet.
Sunshine Express lift will undergo more than $800,000 in maintenance, and make the "Sunnyside Area" as locals call it, much more consistently accessible. First Tracks fans will rejoice with earlier season coverage and new skiers will embrace the top tier grooming and snowmaking efforts just for them.
Parking
All parking lots are intended to remain the same through Summer 2022 and Winter 2022/23. There will be paid parking at Gondola Square and Ski Time Square, and free parking in the Knoll and Meadows lots, with resort shuttles running daily from Meadows.
SSRC and Steamboat Springs Redevelopment Authority continue to work on plans for the future of the Transit Center, and we will share more information as it becomes finalized.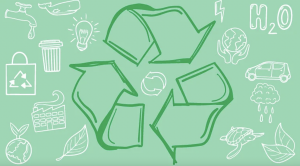 BE GOOD. DO GOOD.
Throughout the construction process, Steamboat Resort is focused on four critical strategies to put sustainability first. Being good, and doing good.
Waste Reduction: During demolition, all steel and concrete materials are recycled for a 70% diversion of demolition waste. In addition, priorities are focused on choosing building materials that contain a high level of recycled content.
Energy Efficiency: In all of the new base area buildings, steps are being taken to be highly efficient with both energy and water. The resort has even placed systems in place to gauge metrics and monitor energy and water use in real time, allowing operations to adjust & conserve energy and water throughout the day.
Guest Education: At every opportunity, Steamboat will educate guests and staff about the resort sustainability efforts and how everyone can take action to preserve the rugged Colorado environment.
LEED Certification: All base area buildings will be LEED-certified, a rigorous government review process. Not only will these buildings use less energy, but they will also be healthier for both staff and guests.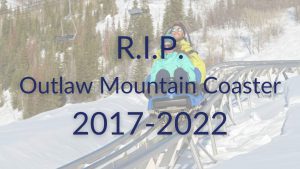 R.I.P. OUTLAW MOUNTAIN COASTER
The time has come that we need to say goodbye to the Outlaw Mountain Coaster. With only five short years of operation, the Mountain Coaster made it's mark on Steamboat, and became a favorite of both tourists and locals alike. With 6,280 feet of track, the Outlaw Mountain Coaster was one of the longest in North America, R.I.P Outlaw Mountain Coaster: 2017-2022.
To make room for the upcoming changes to the base area, the Outlaw Mountain Coaster and Maverick's mini golf course will be removed and are not expected to be reinstalled. Sadly, when the season comes to a close at Steamboat Resort on Sunday, April 10th 2022, it will mark the end of line for the Outlaw Mountain Coaster.
"We have long recognized the Outlaw Mountain Coaster is not in an ideal location as the first impression in the base area," said Rob Perlman, president and COO of Steamboat Ski & Resort Corporation, in a news release. "Now we have the opportunity to be thoughtful about our approach to base area improvements. As we move Full Steam Ahead with shifting Christie Peak Express lift to make room for the Wild Blue Gondola, it is time to remove the mountain coaster from the main thoroughfare in the base area."
The good news for those who enjoyed the Outlaw Mountain Coaster is that the Howler Alpine Slide located downtown at the Howelsen Hill Ski Area will return this summer. The slide was closed in the summer 2021 while Howelsen Hill installed a new lift.
"We are pretty exited that the Howler Alpine slide will be up and running again this summer, utilizing the new Barrows chairlift," said Sarah Floyd, executive director of the Steamboat Springs Winter Sports Club, which operates the slide. "We ran it the summer of 2020 during COVID, but last summer it had to be closed because there was no chairlift, so we're really excited to get it up and running again."
"It's hard to imagine a summer more exciting than last year, but phase two promises to bring even bigger changes to the resort," Perlman said. "These significant resort improvements will enhance the overall experience for our staff, guests and community building upon our strong brand and industry leading guest service."
Giddy-Up & Full Steam Ahead!
For more info about Steamboat Springs, CO check out these other great resources: