Olympic hopefuls will flock to Steamboat Resort for the Visa Big Air competition this December! Steamboat Ski Resort is proud to partner with U.S. Ski and Snowboard to host the first qualifying event of the season: the Visa Big Air presented by Toyota December 2-4. It will be the first and only big air qualifying event for the 2022 Olympics as snowboard big air makes its second Olympic appearance and freeski big air makes its Olympic debut.
Key Facts: 
The Visa Big Air at Steamboat is the only big air event this season as part of five freeski and four snowboard Tryout events for the slopestyle/big air athletes. The remaining events this season are slopestyle. Find out more about Slopestyle/ Big Air World Cup Qualification Criteria for 2021-22 Season in Freeski and Snowboard.
Snowboarding Big Air will make its second Olympic appearance at the 2022 Winter Games and Freeski Big Air will make its Olympic debut.
The Visa Big Air competition will take place in the Park Smalley Freestyle Complex. The event venue will be accessible on-mountain for skiers and snowboarders with lift access from Christie Peak Express.
About 200 athletes from 33 nations are set to compete.
Course Details:
The Visa Big Air at Steamboat qualifications phase will be the best one (1) of two (2) jumps count. In the finals are three (3) jumps with your best two (2) different jumps counting towards your final score.
There will be a spectator zones and fans are encouraged to attend. The event will also be broadcast live on Peacock, with a rebroadcast on NBCSN.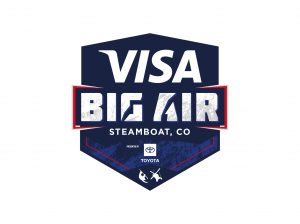 Despite some above-average temperatures that have hindered snowmaking efforts in recent weeks, a change in weather over the weekend and a favorable forecast through the week means that today a positive snow control assessment has been made and the green light given to the FIS Freeski and Snowboard World Cup Visa Big Air presented by Toyota here in Steamboat.
Action kicks off Thursday, Dec. 2, with snowboard big air qualifying heats at 9:55 a.m. The men will have two heats of qualifications, while the women will have one. The same format will repeat for the skiers beginning at 9:55 a.m. on Dec. 3. Saturday, Dec. 4, will be the finals starting with snowboarding at 9:30 a.m. and skiing at 1 p.m. Following Saturday's finals will be a free concert featuring Ozomatli at the stage in Steamboat Square.
Steamboat will be the second and final big air competition of the 2021/22 calendar for both the freeski and snowboard World Cups. A new venue for this season, Steamboat maintains US Ski & Snowboard's tradition of hosting one of the season's marquee big air events on a year-in, year-out basis. The Steamboat competition will be an especially important one for the host squad, as it marks the lone big air tryout event for US athletes looking to make their Beijing 2022 Olympic Winter Games roster.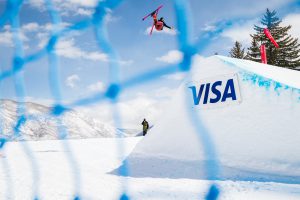 VISA BIG AIR SCHEDULE OF EVENTS
The Visa Big Air Competition is located in the Park Smalley Freestyle Complex, adjacent to Voo Doo. The Complex is only accessible via skiing or snowboarding from the Christie Peak Express chair lift. Exact venue skier access route will be announce prior to the event. Schedule of events is subject to change.

THURSDAY DECEMBER 2, 2021
Snowboard Big Air Qualifications
8:50am- 9:45am Men's Snowboard Heat 1 Inspection/ Practice
9:55am- 10:45am Men's Snowboard Heat 1 Qualifications
10:45am- 11:45am Men's Snowboard Heat 2 Inspection/ Practice
12:00pm- 12:50pm Men's Snowboard Heat 2 Qualifications
12:50pm- 1:45pm Women's Snowboard Inspection/ Practice
2:00pm- 3:00pm Women's Snowboard Qualifications
FRIDAY DECEMBER 3, 2021

Freeski Big Air Qualifications
8:50am – 9:45am Men's Freeski Heat 1 Inspection/Practice
9:55am – 10:45am Men's Freeski Heat 1 Qualifications
11:00am – 11:45am Men's Freeski Heat 2 Inspection/Practice
12:00pm – 12:50pm Men's Freeski Heat 2 Qualifications
1:00pm – 1:45pm Women's Freeski Inspection/Practice
2:00pm – 2:50pm Women's Freeski Qualifications
SATURDAY DECEMBER 4, 2021
Snowboard Big Air Finals, Freeski Big Air Finals

8:30am- 9:15am Snowboard Big Air Finals Training
9:30am- 11:00am Snowboard Big Air Finals
12:00pm- 12:50pm Freeski Big Air Finals Training
1:00pm- 2:30pm Freeski Big Air Finals
Awards immediately following in competition venue
3:00pm
Make It Count Free Concert powered by Jack Daniels featuring Ozomatli
Free concert will be located on the stage in Steamboat Square.
Please leave pets at home
For more info about Steamboat Springs, CO check out these other great resources: