April 1st, 2022 – April 10th, 2022
The Steamboat Ski Area will celebrate the close of the 21/22 winter season with a festival including a boatload of Springalicious® festivities and FREE concerts. Incredible bluebird sunny days combine with hilarious and fun events making it both a guest and local favorite in Steamboat Springs. IKON is also offering a 3-day pass for $299 to make the event easier and more accessible for everyone!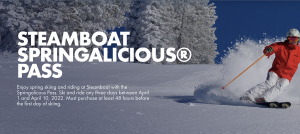 Pro Tip: For the Bud Light Rocks the Boat Free Concert Series grab the whole family and show up a little early to snag some of the best seats in the square on Timber and Torch's patio directly facing the stage!
All concerts will begin at the ideal après ski time of approximately 3:30pm.
SCHEDULE OF EVENTS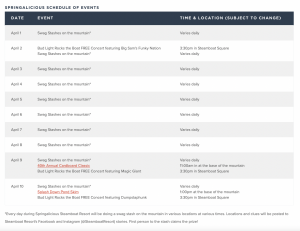 April Fool's Day – Friday, April 1st 2022
Celebrate a fun day full of sun and laughter in Steamboat-Ski Town, U.S.A.® April Fool's Day will include swag giveaways and unofficial costume skiing by locals and tourists alike!
Big Sam's Funky Nation – Saturday, April 2nd 2022
'Big Sam' Williams is a trombonist and band leader from New Orleans, Louisiana. He has been a member of the Dirty Dozen Brass Band and leads Big Sam's Funky Nation. In his youth he studied with saxophonist Kidd Jordan and at New Orleans Center for Creative Arts. In his teens, Williams was a founding member of the Stooges Brass Band and joined the Dirty Dozen, allowing him to play with Karl Denson, Dave Matthews, Widespread Panic, and James Brown. After one year with the Dirty Dozen, he began a side project broadening his musical ambitions. Big Sam's Funky Nation is primarily a funk and rock band that has elements of traditional jazz, contemporary jazz, acid jazz, dance, hard rock, and punk.
40th Annual Cardboard Classic – Saturday, April 9th 2022
The Cardboard Classic, Steamboat's traditional rite of spring returns to the Steamboat Ski Area for the 40th year. This wild and hilarious race features homemade cardboard crafts, constructed only from cardboard, glue, string, water based paint, duct tape, masking tape, balloons and other decorations, racing down Stampede to a hysterical finish. The uniqueness and creativity of the race make it an event looked forward to each year.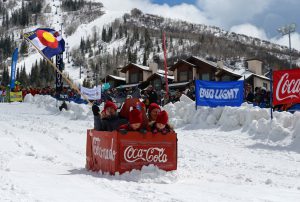 SCHEDULE

10:00am – 11:00am: Registration & Check-In
Participants must check in at the Steamboat Tent in Steamboat Square
11:00am – 11:30am: Cardboard D'Elegance/Judging
11:30am: Races Begin
17 & under race begins promptly at 11:30am followed by 18+ race
Award Ceremony will follow the end of race

Magic Giant – Saturday, April 9th 2022
Called "the most festive band in the festival circuit," this American alt-rock band was formed in Los Angeles in 2014 with a style similar to Imagine Dragons, Walk the Moon, The Lumineers, and Mumford & Sons. Their live show can be described as "joyful and inspiring of mass dance-alongs" with multiple TV appearances including The Today Show and Good Morning America. The group has thrilled growing crowds along its 80-city North American and European tour, with their music charting in countries worldwide from Greece to South Africa. Debuting in 2017 with their LP In The Wind, MAGIC GIANT, came out of the gates swinging, with TV appearances ranging from the Today Show to Good Morning America, and Billboard singling them out as one of "10 Awesome Bands" playing Coachella, with their show turning out to be part of the most watched live-stream in history. Their latest single, "My My," off their sophomore and upcoming studio album, not only symbolizes the deep and heavy chasm of the pandemic but the optimism of getting out of it.
Splash Down Pond Skim – Sunday, April 10th 2022
The Splashdown Pond Skimming Championships hits Steamboat once again on Closing Day – Sunday, April 10th! Wrapping up another fantastic season at Steamboat, this event has antics like you wouldn't believe. The Splashdown Pond Skimming Championships brings brave (and slightly crazy) skiers and riders in costume with a dream – of crossing the icy pond successfully – and, if they're lucky, with style!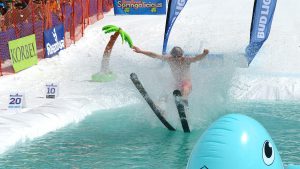 SCHEDULE

9:30am – 11:30am: Participant Check-In
Participants must check in at the Steamboat tent in Steamboat Square or their spot will be released.
1:00pm: Pond Skim Begins
First come, first served basis.
Award Ceremony to follow conclusion of the skim on the mobile stage in Steamboat Square.
Dumpstaphunk – Sunday, April 10th 2022
Dumpstaphunk stands out amongst New Orleans' best, cementing themselves as one of the funkiest bands to ever arise from the Crescent City. Born on the Jazz & Heritage Festival stage, and descended from Neville and Meters family bloodlines, these soldiers of funk ignite a deep, gritty groove that dares listeners not to move. Their performances combine ingenious musicianship through complex funk, rock, and jazz arrangements accompanied by soulful melodies and Big Easy traditions.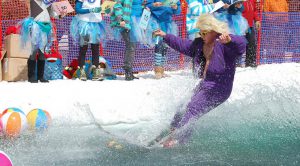 IKON – STEAMBOAT SPRINGALICIOUS® PASS
Ski and ride any three days between April 1st and April 10th, 2022 with the Springalicous Pass.
*Must purchase at least 48 hours before the first day of skiing.
For more info about Steamboat Springs, CO check out these other great resources: