April 1st, 2023 – April 9th, 2023
The Steamboat Ski Area will celebrate the close of the 22/23 winter season with a festival including a boatload of Springalicious® festivities and FREE concerts. Incredible bluebird sunny days combine with hilarious and fun events making it both a guest and local favorite in Steamboat Springs. IKON is also offering a 3-day pass for $299 to make the event easier and more accessible for everyone!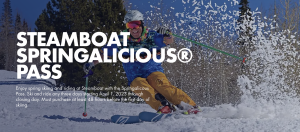 Pro Tip: For the Bud Light Rocks the Boat Free Concert Series grab the whole family and show up a little early to snag some of the best seats in the square on Timber and Torch's patio directly facing the stage!
All concerts will begin at the ideal après ski time of approximately 3:30pm.
TENTATIVE SCHEDULE OF EVENTS
 April Fool's Day – April 1st 
Celebrate a fun day full of sun and laughter in Steamboat-Ski Town, U.S.A.® April Fool's Day will include swag giveaways and unofficial costume skiing by locals and tourists alike!
41st Annual Cardboard Classic – April 9th 
The Cardboard Classic, Steamboat's traditional rite of spring returns to the Steamboat Ski Area for the 41st year. This wild and hilarious race features homemade cardboard crafts, constructed only from cardboard, glue, string, water based paint, duct tape, masking tape, balloons and other decorations, racing down Stampede to a hysterical finish. The uniqueness and creativity of the race make it an event looked forward to each year.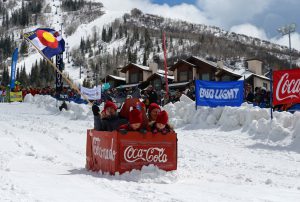 SCHEDULE

10:00am – 11:00am: Registration & Check-In
Participants must check in at the Steamboat Tent in Steamboat Square
11:00am – 11:30am: Cardboard D'Elegance/Judging
11:30am: Races Begin
17 & under race begins promptly at 11:30am followed by 18+ race
Award Ceremony will follow the end of race
Splash Down Pond Skim – TBD
The Splashdown Pond Skimming Championships hits Steamboat once again! Wrapping up another fantastic season at Steamboat, this event has antics like you wouldn't believe. The Splashdown Pond Skimming Championships brings brave (and slightly crazy) skiers and riders in costume with a dream – of crossing the icy pond successfully – and, if they're lucky, with style!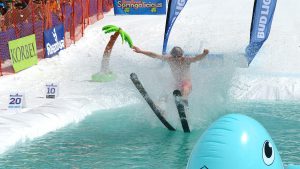 SCHEDULE

9:30am – 11:30am: Participant Check-In
Participants must check in at the Steamboat tent in Steamboat Square or their spot will be released.
1:00pm: Pond Skim Begins
First come, first served basis.
Award Ceremony to follow conclusion of the skim on the mobile stage in Steamboat Square.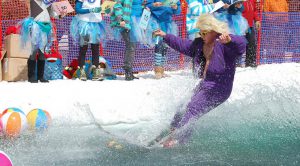 IKON – STEAMBOAT SPRINGALICIOUS® PASS
Ski and ride any three days between April 1st and April 9th, 2023 with the Springalicous Pass.
*Must purchase at least 48 hours before the first day of skiing.
SPRING ACCESS
SKI OR RIDE ANY THREE DAYS STARTING APRIL 1, 2023 THROUGH CLOSING DAY
No blackout dates.
DAYS USED DO NOT NEED TO BE CONSECUTIVE
Limit one pass per person.
NON-REFUNDABLE AND NON-TRANSFERABLE
Names can not be changed once they are assigned to the pass.
Pass Insurance is highly recommended.
Prices and availability are subject to change without notice.
For more info about Steamboat Springs, CO check out these other great resources: