Since 2013, WinterWonderGrass has been a grassroots mountainside gathering celebrating all things natural: bluegrass, roots & craft brew! This year, WinterWonderGrass Festival keeps that spirit alive bringing together authentic bluegrass music and Colorado craft beer for one of the best music festivals of the season. The festival features over 20 Colorado craft breweries and more than 25 bands during this three day event.
Each year WinterWonderGrass supports local non-profits – with a focus on environmental protection, sustainability, musical education, community initiatives, and disaster relief. One dollar for every ticket sold is donated to local non-profits. The festival boasts a strong sustainability program diverting over 85% of festival waste from landfills. Also, a commemorative festival mug is included with each three-day festival ticket – and ZERO single-use plastics are used on-site. Talk about putting your money where your mouth is!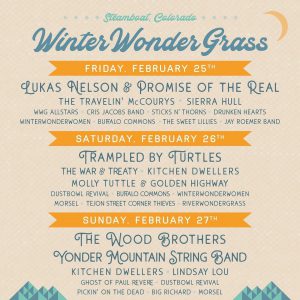 Where: Steamboat Springs, CO
How: GET TICKETS
When: February 25th – 27th, 2022
*Tickets on sale now!
No refunds after 
Dec 15, 2021
. Start making plans, it's never too soon to rally your friends and family and secure your lodging with Steamboat Lodging Company!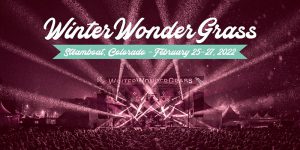 About This Event
WinterWonderGrass Colorado 2022 will feature:
Trampled by Turtles, Lukas Nelson & Promise of the Real, The Wood Brothers, Yonder Mountain String Band, Kitchen Dwellers, The Travelin' McCourys, The War and Treaty, Molly Tuttle, Sierra Hull, Lindsay Lou, Ghost of Paul Revere, Dustbowl Revival, Cris Jacobs Band, Pickin' on the Dead, Buffalo Commons, Sticks and Thorn, The Sweet Lillies, Drunken Hearts, Tejon Street Corner Thieves, Morsel & Joy Roemer Band *plus* WinterWonderWomen and the debut of the RiverWonderGrass All-Stars. 
VIP is SOLD OUT! Get on the waitlist with Lyte.
DATES / TIMES
Thursday, Feb 24 | 5-9 pm Mountaintop Dinner
Friday, Feb 25 | 1:30-10 pm
Saturday, Feb 26 | 1:30-10 pm
Sunday, Feb 27 | 1:30-9:30 pm
Thursday Night: Mountaintop Dinner will feature The Travelin' McCourys. (Tickets are sold out.)
Friday: Lukas Nelson and Promise of the Reel, Travelin McCourys, Sierra Hull, Cris Jacobs, Drunken Hearts, Sticks and Thorns, Jay Roemer Band, The Sweet Lillies, Buffalo Commons, WinterWonderWomen and WWG All-stars
Saturday: Trampled by Turtles, The War & Treaty, Molly Tuttle, Dustbowl Revival, Kitchen Dwellers, Buffalo Commons, Tejon Street Corner Thieves, Morsel, WinterWonderWomen, RiverWonderGrass Allstars
Sunday: The Wood Bros, Yonder Mountain String Band, Kitchen Dwellers, Lindsay Lou, Pickin on the Dead, Ghost of Paul Revere, Morsel, Dustbowl Revival, Big Richard
PLEASE NOTE: WinterWonderGrass is an all-ages family event, must be 21+ to purchase alcohol. The event is always held outdoors, and will take place in rain, snow, or shine! So dress accordingly, and bring layers. The festival is a community and family-friendly event featuring a colorful kids zone with face painting, hula hooping and crafts while parents can enjoy libations and enjoy live music until the sun sets. Children under 12 are free and seniors over 75 are also free.