Planning a winter vacation in Steamboat Springs and either renting a car or driving your own? Driving in the snow can include a mix of emotions, questions, and concerns, but at Steamboat Lodging Company is here to provide you with seasoned knowledge to stay safe on the roads.
Winter driving can be challenging, but with the right preparation and driving techniques, you can ensure a safe and stress-free journey. Here are some tips for winter driving.
1. Know Before You Go & Prepare Your Vehicle
The first consideration should be how you and your group plan to get to Steamboat Springs. Navigating Colorado's scenic roads and beloved mountain towns can be challenging in the midsts of a winter storm. Before you hit the road, make sure your vehicle is prepared for winter driving. Check your tires for proper pressure and tread depth, top off your windshield washer fluid, and ensure your brakes and battery are in good working condition.
2. Slow Down!
In snowy and icy conditions, it's important to slow down and drive at a safe speed. Accelerate and brake gently to avoid skidding, and allow extra time and distance for stopping. Most winter accidents could be avoided by simply slowing down and leaving extra time to react. Quick acceleration and sudden braking cause vehicles to slide out of control. When turning, be smooth and gradual rather than abrupt and jerky. Safety first!
3. Increase Following Distance
It's important to maintain a safe following distance from the vehicle in front of you. In winter conditions, it's recommended to double the typical following distance to allow for extra stopping time. Remember, once a car starts to slide the control is almost completely out of the drivers hands. Allowing extra space and time to prepare for unexpected activity and road conditions will help to keep you and your passengers safe.
4. Use Winter Tires
Winter tires are designed to provide better traction in snowy and icy conditions. If you live in an area with heavy snowfall, consider investing in a set of winter tires for your vehicle. The vehicle you're driving also plays an important role in keeping you safe. All-wheel drive and 4-wheel drive vehicles offer the best traction on slippery roads.
5. Keep Essentials in Your Car
In case you get stranded or stuck in the snow, keep essentials such as a shovel, ice scraper, blankets, and non-perishable food and water in your car. Always be prepared!
6. Know How to Handle Skids
If you do experience a skid, don't panic. Take your foot off the gas and steer in the direction you want to go. Avoid slamming on the brakes, which can make the skid worse. This little trick of staying calm under pressure could be the difference between making a swift and safe recovery versus suffering an unwanted accident. 


7. Check Road Conditions
Before you head out, check road conditions and weather forecasts. If conditions are particularly hazardous, consider delaying your trip or taking an alternate route. 
8. Be Overly Cautious
This goes without saying, but please be overly cautious when driving in winter conditions. Driving smoothly when accelerating, braking, and turning makes all the difference. Be aware of your surroundings, including road conditions, visibility, and the location of other vehicles near you on the road. Have your headlights on and always use your turn signals. And, last but not least, everyone in your vehicle should ALWAYS wear their seatbelt.
By following these tips, you can stay safe and confident on the road during the winter months. Remember, it's always better to arrive late than not at all.
Visit Colorado's Road Portal for a reliable source on local road conditions including live cameras, real-time status, and travel alerts.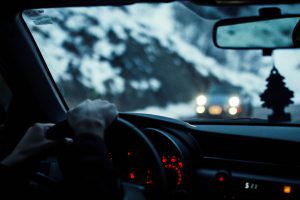 PARKING IN STEAMBOAT
Driving in Steamboat Springs during the winter can be intimidating, but parking is no easy feat either. Parking is often less abundant during peak season and one that's not always taken into consideration. But, not to worry as Downtown Steamboat (where the majority of our shops, restaurants, and bars are located) offers ample free on-street parking and public parking lots. 
Local's Tip: Vehicles cannot be left in any on-street parking spaces or parking lots from 2am-6am during the winter to allow for snow removal. Also, take note of time limits on spots AND direction of vehicle in relation to the road. You WILL get ticketed. 
Steamboat Resort has free resort parking in the Knoll Lot which is about 100 yards from Gondola Square and in the Meadows Lot which is about a ¼ mile from Gondola Square. Shuttles depart the Meadows parking lot approximately every 10 minutes for an effortless commute to the base.
Steamboat Resort offers paid parking options for late arrivals or those looking for covered spaces or simply want to be closer to the resort. Two paid parking lots ($25) can be found near Gondola Square for the closest proximity to the base. 
Luckily for visitors and residents alike, there's an easy option to avoid the stress of having to park and makes getting around town a breeze. The Steamboat Springs city bus is a clean, free and friendly option that stops every 20 minutes at the numerous locations throughout Steamboat during the winter season. Download the RouteShout application on your smartphone or visit Steamboat's Transit Portal for information on stop locations or to track buses in real-time.


Have you planned where to stay in Steamboat Springs this Winter?
Check out our Steamboat Springs lodging and get the best price on your rental by booking directly with us. We have rental properties all over Steamboat, including near the mountain and downtown Steamboat!