Wow, Steamboat Resort is looking pretty different nowadays! Steamboat Ski & Resort Corporation is moving full steam ahead with the second phase of its $200 million, multi-year transformation, including a major facelift to the base area and to the mountain.
Full Steam Ahead aims to pay homage to Steamboat's rich Western heritage while reimagining both the guest and staff experience on (and off) the mountain. The project will transform the base area into a multi-use, amenity-rich plaza creating an easy-to-navigate resort entrance, and eliminating multiple levels of cumbersome stairs in the once confusing maze into Steamboat's Base Area. Steamboat Square is also planning on having additional dining and après, shopping, entertainment, and welcoming gathering places for guests to enjoy year-round. What a difference a year can make!
Priorities for 2022/2023 include Wild Blue Gondola, Greenhorn Ranch, and the Indoor/Outdoor Food Pavilion & Hall. Learn more about The Full Steam Ahead Project HERE.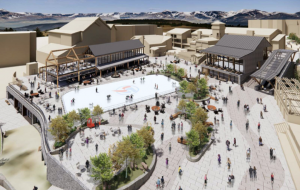 ICE SKATING RINK
Skeeter's Rink or Park – The centerpiece of Steamboat Square. Skeeter's Rink will be open this coming winter with on-ice fun, and Skeeter's Park will have lawn games and events in the summer.
FOOD & DRINK HALL
The Range Food & Drink Hall – The Range has a collection of small stops to satisfy any one in the group; Sunshine Bowl Ramen, Pioneer Pie, Twister Tacos, Why Not Sandwich Shop.
BETTER ACCESS
Welcome to the New West – Open now: guests are welcomed to the resort through a clear main entrance directing them through the fastest route to the lifts and the snow via the only escalator in town.
ENTERTAINMENT
Steamboat Square – Serves as the perfect spot to host festivals, concerts and events. The Steamboat Stage will be back with the legendary music performances we are known for.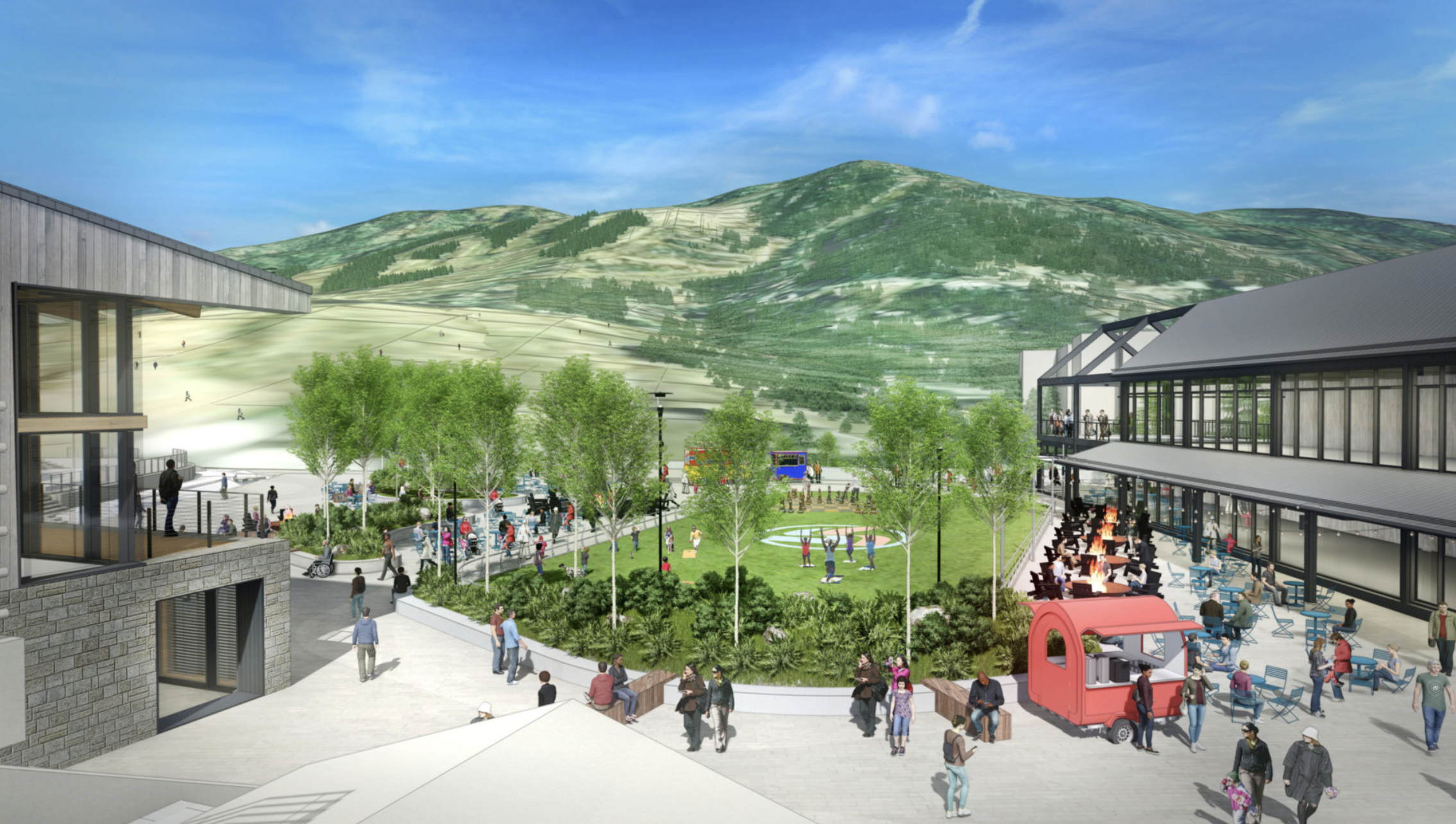 Steamboat Square's facelift features Skeeter's Ice Rink in the heart of the square and The Range Food & Drink Hall, featuring four new eateries with a variety of options for resort guests. In the tradition of great food halls around the world, the Range will open with Sunshine Bowl Ramen, Twister Tacos, Why Not Sweet Spot and Pioneer Pie on the main floor.
Each floor will have a full bar, with the second-floor bar featuring an outdoor deck space overlooking Steamboat Square and the resort's lower mountain. Additionally, amenities lining the Promenade will include a new Patrol base, bathrooms, lockers, and a new home base for Steamboat Adaptive Recreational Sports (STARS) on-mountain operations.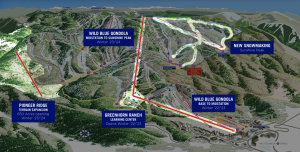 On opening day, November 23, 2022 fifteen local figure skaters will glide onto the brand new ice to perform and help celebrate the ski season opener and the new rink. "The resort asked us to come perform because they dedicated the new rink to women of the Yampa Valley and to celebrate Steamboat's western heritage, so we will be doing a western inspired show," says Kelli Standekar, On-Ice Director, of the local non-profit Steamboat Skating Club. Skaters will range from ages 7 – 17 and will perform at 10:45 a.m. on opening day. "We're super pumped about this rink. I know our skaters are super excited to be able to skate outside at the ski resort with their friends. It's nice that our community is investing in skating as a sport."
At 133 feet by 58 feet, it's not quite as big as a regulation rink (200′ x 85′), but large enough to have fun for all ages all day long (operating hours are 10 a.m. to 8 p.m. 7 days a week). Better yet, the rink is free, and ice skate rentals will be available in the horse trailer-turned rental shop. But really, it's about a vibe.
"I'm very excited to be able sit around the rink at one of the firepits enjoying a signature cocktail or skating around the rink with my family, even enjoying a concert or music from the Steamboat stage," says Jennifer Shea, Vice President of Development at Steamboat Resort. "We are looking at other fun activities such as broom ball, curling, and figure skating." In the summer, turf will be rolled out, and Skeeter's rink will turn into Skeeter's Hub for an opportunity to enjoy yoga, lawn games, and other activities in the heart of the square.
Named after Gladys "Skeeter" Werner, the oldest child of the famous Werner family, Skeeter was born in 1933 and she began skiing at the age of one. In 1949 she rose in the ranks of competitive skiing and garnered national attention by winning the West of the Mississippi Championship in Sun Valley, Idaho. She became the youngest member of the U.S. FIS team and was ranked 10th nationally in downhill. Skeeter was featured on the cover of a Sports Illustrated and went on to marry Heisman Trophy winner Doak Walker in 1969.
Skeeter started the Steamboat Ski School, serving as director and owner until 1969. She coached the Colorado Junior National Team and the infamous Steamboat Springs Winter Sports Club. In 1984, Skeeter was inducted into the Colorado Ski Hall of Fame and went on to receive the Hazie Werner Award in 1989. In 2001, Skeeter passed away at the age of 67. "Skeeter's Ice Rink will be a wonderful reminder of her impact on the world of women's skiing and on Steamboat Resort," says Marin Franciosi, Communications Manager, Steamboat Resort.
For the girls from the Steamboat Skating Club, the new rink will set the stage, so to speak, for ice skaters to join the ranks of skiers and visitors from all over the world in the Steamboat tradition of celebrating the spirt and tradition of winter sports.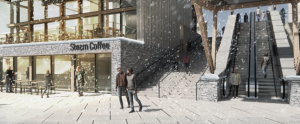 MORE INFORMATION
PARKING
All parking lots are intended to remain the same through Winter 2022/23. There will be paid parking at Gondola Square and Ski Time Square, and free parking in the Knoll and Meadows lots, with resort shuttles running daily from Meadows.
SSRC and Steamboat Springs Redevelopment Authority continue to work on plans for the future of the Transit Center, and we will share more information as it becomes finalized.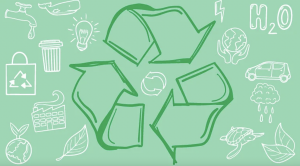 BE GOOD. DO GOOD.
Throughout the construction process, Steamboat Resort is focused on four critical strategies to put sustainability first. Being good, and doing good.
Waste Reduction
During demolition, all steel and concrete materials are recycled for a 70% diversion of demolition waste. In addition, priorities are focused on choosing building materials that contain a high level of recycled content.
Energy Efficiency
In all of the new base area buildings, steps are being taken to be highly efficient with both energy and water. The resort has even placed systems in place to gauge metrics and monitor energy and water use in real time, allowing operations to adjust & conserve energy and water throughout the day.
Guest Education
At every opportunity, Steamboat will educate guests and staff about the resort sustainability efforts and how everyone can take action to preserve the rugged Colorado environment.
LEED Certification
All base area buildings will be LEED-certified, a rigorous government review process. Not only will these buildings use less energy, but they will also be healthier for both staff and guests.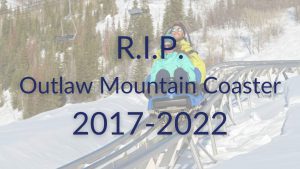 R.I.P. OUTLAW MOUNTAIN COASTER
The time has come that we need to say goodbye to the Outlaw Mountain Coaster. With only five short years of operation, the Mountain Coaster made it's mark on Steamboat, and became a favorite of both tourists and locals alike. With 6,280 feet of track, the Outlaw Mountain Coaster was one of the longest in North America, R.I.P Outlaw Mountain Coaster: 2017-2022.
To make room for the upcoming changes to the base area, the Outlaw Mountain Coaster and Maverick's mini golf course will be removed and are not expected to be reinstalled. Sadly, when the season comes to a close at Steamboat Resort on Sunday, April 10th 2022, it will mark the end of line for the Outlaw Mountain Coaster.
"We have long recognized the Outlaw Mountain Coaster is not in an ideal location as the first impression in the base area," said Rob Perlman, president and COO of Steamboat Ski & Resort Corporation, in a news release. "Now we have the opportunity to be thoughtful about our approach to base area improvements. As we move Full Steam Ahead with shifting Christie Peak Express lift to make room for the Wild Blue Gondola, it is time to remove the mountain coaster from the main thoroughfare in the base area."
Onwards and upwards! We are excited about these new improvements and excited about the future of Steamboat Resort.
Giddy-Up & Full Steam Ahead!
For more info about Steamboat Springs, CO check out these other great resources: