The snow is melting, and we here in Steamboat Springs are ready for warm temps, and a summer packed full of fun & local events! Steamboat in the summertime is a great place for families, couples, and friends to come together and enjoy the great outdoors & NW Colorado culture.
Whether it be a mountain bike race, a Western rodeo, or a wine tasting event, there is something for everyone in Steamboat Springs! Come to our little corner of the world to experience what a true mountain paradise in the summer looks like.
---
2022 Schedule of Events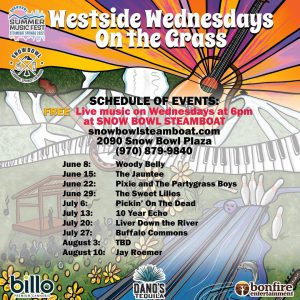 WESTSIDE WEDNESDAYS ON THE GRASS
June 8th – August 10th, 2022 (Starting at 6pm)
Get ready for an awesome summer at Snowbowl Steamboat's Westside Wednesdays on the Grass! With new dining and bar menus, 12 open bowling lanes, arcade games, a dog-friendly patio – these weekly free live show are sure to be a delight for everyone in your group. There's always something to do at Snow Bowl!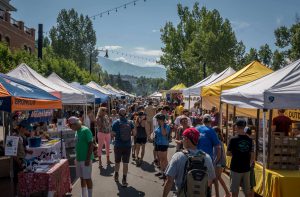 STEAMBOAT FARMERS MARKET
June 11th – September 24th, 2022 (Saturdays 9am – 2pm)
The Main Street Steamboat Farmers Market is back! The weekly event will be held along the scenic Yampa River on Yampa Street between 6th  St. and 8th St. The Farmers Market will be on Saturdays from June 4th to September 17th, and the official hours are 9am – 2pm.
The Farmers Market will feature fresh fruit and vegetables each week, as well as local meats, cheeses, and baked goods. The market will focus on food and offer a wide variety of local and cottage industry products. Pick up fresh bread and pies, local beef, bison, pork, and lamb as well as jams, syrups, and honey. It's also a great place to stop for lunch!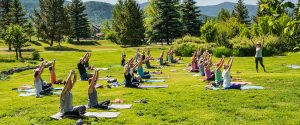 YOGA ON THE GREEN
All Summer – Tuesdays, Thursdays, & Saturdays (9am – 10am)
Yoga on the Green is held Tuesdays, Thursdays, and Saturdays from 9am – 10am throughout the summer in the Botanic Gardens. Classes are designed to accommodate a wide range of experience levels and abilities to ensure everyone is welcome.
Find peace and stillness in the Botanic Park surrounded by the beauty of nature, delicate gardens, and serene pond. You'll need to bring your own mat, water, and practice responsible social distancing onsite. Walk, bike, or carpool to yoga whenever possible, as there is limited parking. A $10 donation is requested, but not mandatory.  Funds help support the Botanic Park and fund instructors.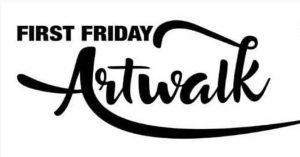 FIRST FRIDAY ARTWALK
All Summer – Recurring Every First Friday of the Month (5pm – 8pm)
Presented by Steamboat Creates, the First Friday Artwalk occurs on the first Friday of every month in Downtown Steamboat Springs. Discover the local artists of the Yampa valley and beyond at the galleries and participating venues in the downtown creative district of Steamboat Springs. Look out for live music, wine and special demonstrations at different galleries and venues. The First Friday Artwalk occurs on the first Friday of every month during the summer.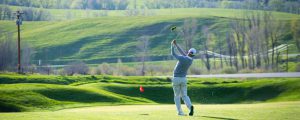 Y.E.S. GOLF TOURNAMENT
June 1st, 2022
The Youth Education Scholarship (Y.E.S.) Golf Tournament is organized by the Young Professionals Network and the Steamboat Springs Chamber. The Y.E.S. Golf Tournament is played at Rollingstone Ranch Golf Club. The tournament format is a mixed scramble with four-player teams. There is no handicap required; however, no team may have more than two players with handicaps of 12 or less.
The cost is $150 per person and includes golf cart, bag of swag, and food following the tournament. Check-in is at 10:30am on June 2nd and tee off is at 11:00am.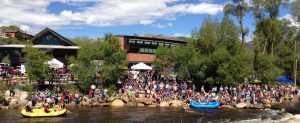 YAMPA RIVER FESTIVAL
June 3rd – 4th, 2022
If you are going to be in Steamboat during the first weekend of June, you need to check out the Yampa River Festival! The flagship event of Friends of The Yampa, the Yampa River Festival is a true hometown celebration of our friend the Yampa River.
The Yampa River flows through 270 miles of NW Colorado before joining the Green River in Dinosaur National Park. With only a few small reservoirs in its upper stretches, the Yampa River flows mostly unimpeded. The wild nature of the Yampa River is unique among the Colorado River system that is otherwise controlled, managed and tapped to its limit. Come out and see why tourists and locals alike love the mighty Yampa!
EVENT SCHEDULE:
Friday, June 3rd: Fish Creek Race at the Mt. Werner Water treatment facility
Saturday, June 4th: Riverside Events at Charlie's Hole near the Bud Werner Memorial Library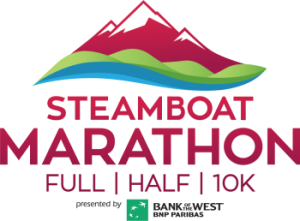 STEAMBOAT MARATHON, HALF MARATHON, & 10K
June 5th, 2022
41st Annual Steamboat Marathon, Half Marathon & 10K
If you're ready to sprint into summer (and love running!), you can check off a bucket list item with the annual Steamboat Marathon.
Run alongside the roaring Elk River through the emerald green pastures on Country Road 129 with the snow-capped Rocky Mountains of Colorado all around and find out why the Steamboat Marathon was ranked as one of the "Top 10 Destination Marathons in North America."
Registration is NOW OPEN! – don't miss your chance to run this beautiful race through the Rockies!
Not in Steamboat? No problem! Out of town runners can enter the virtual challenge by following these instructions.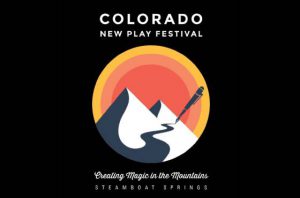 COLORADO NEW PLAY FESTIVAL
June 17th – 18th, 2022 (Saturday & Sunday – 9:00am)
The Colorado New Play Festival, located in Steamboat Springs, Colorado brings a diversity of voices, ideas and beliefs to the American Stage. For almost twenty-five years, CNPF has been celebrating the raw power of words and providing a platform for some of the most talented playwrights in the country to further develop new works. This year CNPF is proud to announce two new programs: the Youth Playwright Slam, a partnership with the Boys and Girls Club of Northwest Colorado, and Refugee Voice, a partnership with International Rescue Committee.
PLAYWRIGHTS CHOSEN FOR THE 2022 FESTIVAL
Spenser Davis (South Coast Repertory, Costa Mesa, CA)

Idris Goodwin (Milwaukee Rep, Milwaukee, WI)

Liba Vaynberg (Rattlestick Playwrights Theater, New York, NY)

José Cruz González (The Old Globe, San Diego, CA)

KJ Sanchez (Alliance Theatre, Atlanta, GA)
$25 FOR INDIVIDUAL READINGS, $200 FOR A FULL FESTIVAL PASS

STARS BIKING THE BOAT & BEYOND
June 25, 2022
Biking the Boat is a fundraising event held in Steamboat for a great cause! The STARS program benefits individuals with physical and/or cognitive disabilities. The STARS Biking the Boat & Beyond 2021 Ride is an open event to any and all that want to participate, or simply donate to the cause. This year, the event will be held in person, masks will be required and 6 ft social distancing (when possible) at all times during the event, unless eating, drinking, or riding. 
If you would like to join, you can choose from a 5-mile fun ride, a 20-mile ride, or a 50-mile challenge ride! All registered riders will receive a swag bag, an event t-shirt, and a grab-and-go lunch/drink option on event day. There are also options for our non-local supporters to register as "Virtual Fundraisers" and join a fundraising team. For more information click HERE.
All rides start and finish at West Lincoln Park in Steamboat Springs
50 mile Ride: Start at 8:00 am
CLICK HERE TO SEE THE 50-mile ROUTE
20 mile Ride: Start at 9:30 am
CLICK HERE TO SEE THE 20-mile ROUTE
5 mile Ride: Start at 11:00 am
CLICK HERE TO SEE THE 5-mile Core Trail ROUTE
All rides are expected to finish around lunchtime. Registered riders will receive lunch after they finish and enjoy a host of post-race festivities.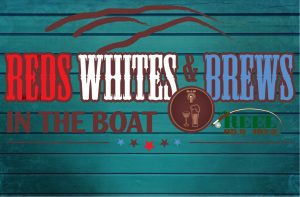 REDS, WHITES, AND BREWS
June 25th, 2022 (12:00pm – 5:00pm)
In the gorgeous setting of downtown Steamboat Springs, Reds, Whites & Brews in the Boat is the ideal event to kick off your summer in the Colorado mountains! This event features amazing unlimited wine & craft beer tastings, live music, vendors, food, and more!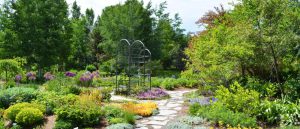 2ND ANNUAL PASSPORT TO THE BOTANIC PARK
June 25th, 2022 (5:00pm – 7:30pm)
The Yampa River Botanic Park is hosting its 2nd annual gala, Passport Through the Botanic Park on Saturday, June 25th, 2022 at 5 pm. (Weather delay date is June 26.) The event invites guests to journey through the gardens touring plant collections that are native to Colorado and similar environments worldwide while enjoying global cuisine, wine, and entertainment. Reservations available online on June 1st, 2022.
Explore stations throughout the gardens that pair learning opportunities with delightful food and wine.
Delight in entertainers who will perform in rotation in different areas of the Botanic Park.
Get in on the fun of an online silent auction that includes Rocky Mountain experiences, fun home and garden themes, food and drink and more!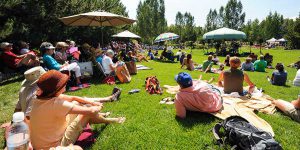 MUSIC ON THE GREEN
June 29th – August 17th, 2022 (Wednesdays at 10am)
The Yampa River Botanic Park is pleased to partner with Strings Music Festival to offer this free summer series. Every Wednesday morning, music lovers of all ages are invited to enjoy these outdoor concerts in one of Steamboat's most beautiful parks. Bring a blanket, a picnic lunch, a hat or other sun protection, as there is limited shade to sit under.  Music on the Green is a free event in Steamboat Springs, CO.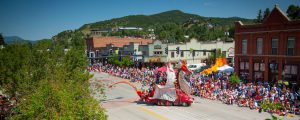 FOURTH OF JULY CELEBRATION
July 1st – 5th, 2022 (TBD)
The Fourth of July in Steamboat is more than a celebration of national pride; it's an opportunity to honor the Yampa Valley's rich western heritage with fun for all.
Events like the Ski Jumping Extravaganza, hometown parade, and the largest Pro Rodeo event of the summer, have visitors proclaiming independence at this 100+ year-old event.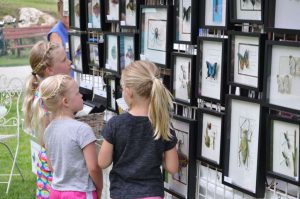 ART IN THE PARK
July 9th – 10th, 2022 (9:00am – 5:00pm)
Steamboat Art in the Park is free to the public and features 150 artist vendors, live entertainment, food and drink vendors, and an interactive children's art area. This popular and successful event takes place on July 10th and 11th over Hot Air Balloon Rodeo Weekend.
The event takes place at West Lincoln Park on the west end of Steamboat and is open from 9am – 5pm both days. Capacity will be limited to 500 attendees at a time this year, and health and safety protocols will be in place for vendors, volunteers, and spectators.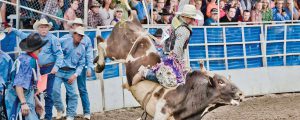 STEAMBOAT PRO RODEO SERIES
June 24th – Aug 27th, 2022 (Every Friday and Saturday Night )
The Steamboat Pro Rodeo Series takes place every Friday and Saturday night all summer long!
Main events start at 7:30p.m. on Fridays and Saturdays and the BBQ starts at 6:00 p.m. and runs until 9:30 p.m. Pre-Rodeo entertainment appears on the entertainment stage from 6:00 p.m. until 7:15 p.m. Located at the Brent Romick Arena on Howelsen Pkwy.
Note: For July 4th performance all times will be 1 hour earlier.
Tickets go on sale April 1, 2022. For more information, please click HERE.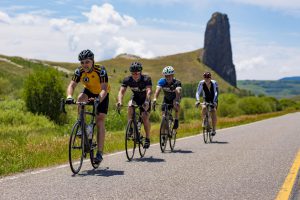 TOUR DE STEAMBOAT
July 16th, 2022 (Event starts at 7am, and ends when all registrants have finished)
The Tour de Steamboat is a legendary non-competitive cycling event offering four different route distances for riders of all ages and abilities!  This event  brings together 1,200 cyclists for a one-day ride through beautiful Northwest Colorado. There are three road ride routes—26, 46, and 66, and 2 gravel routes, a 100 mile, and a new 50 Mile route. See the Routes page for more details.
All proceeds from the Tour de Steamboat go directly to our beneficiary non-profits.
To register, please visit TourdeSteamboat.com.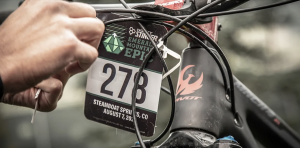 HONEY STINGER EMERALD MOUNTAIN EPIC
August 6th – 7th, 2022
The Honey Stinger Emerald Mountain Epic attracts some of the nation's best mountain bike and trail running racers. The race is a challenging experience for all levels, as it is 90% singletrack with major elevation gains!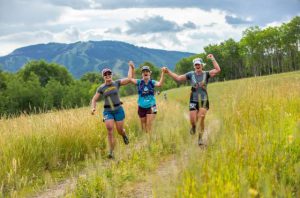 This charity event challenges racers to compete at their personal best, while promoting safety, fun, and camaraderie. In addition to the in-person race, Emerald Mountain Epic will continue hosting a virtual fundraising ride/run event for athletes who want to support the non-profit beneficiaries (but do not want to partake in the in-person race.)
Race is 7am – 3pm. Price: $55 Half Marathon / $70 Full Marathon / $100 Mountain Bike Race

STEAMBOAT OKTOBERWEST
September 10th, 2022 (TBD)
Steamboat OktoberWest is back! Celebrating it's 13th year, OktoberWest is a celebration of craft beer in beautiful Steamboat Springs, Colorado.
With an anticipated 30 brewers and between 1,000-1,500 beer enthusiasts in attendance, this one-day afternoon event will include live music, food, and festivities.
Celebrate the end of summer with Steamboat OktoberWest – With beer, biking, and western-style fun! Join in on this mountain town take on Oktoberfest and get ready for a weekend full of food, beer tastings, music, and entertainment all over town!
I LOVE BEEF COOK OFF
Sample Colorado Beef from Steamboat's finest restaurants; as they compete for the winner of the I Love Beef Cook Off. Attendees will taste dishes from each restaurant and cast their vote for their favorite!
BEER GARDEN
The Beer Garden will feature over 40 Rocky Mountain Brewers, each sampling 2 kinds of brews.
VIP EXPERIENCE
Celebrate the 12th anniversary with a commemorative ceramic stein. For more information about VIP and standard tickets, click HERE.

STEAMBOAT FOOD & WINE FESTIVAL
September 29th – October 2nd, 2022
The Steamboat Food & Wine Festival is a multi-day culinary experience featuring celebrated chefs, wine experts, and other gastronomic specialists from across the country. Come check out the curated dinners, wine and spirit tastings, seminars and demos.
Find more information about the event and ticketing prices HERE.
For more info about Steamboat Springs, CO check out these other great resources: