All Summer – Tuesdays, Thursdays, & Saturdays (9am-10am)
Yoga on the Green
Yoga on the Green is held Tuesdays, Thursdays, and Saturdays from 9am – 10am throughout the summer in the Botanic Gardens. Classes are designed to accommodate a wide range of experience levels and abilities to ensure everyone is welcome.
Find peace and stillness in the Botanic Park surrounded by the beauty of nature, delicate gardens, and serene pond. You'll need to bring your own mat, water, and practice responsible social distancing onsite. Walk, bike, or carpool to yoga whenever possible, as there is limited parking. A $10 donation is requested, but not mandatory.  Funds help support the Botanic Park and fund instructors.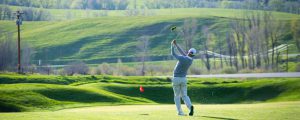 June 4th – 5th
Yampa River Festival
Since 1980, the Yampa River Festival has been the Friends of the Yampa's signature event to raise awareness about the wild Yampa River. Over the years, the festival has evolved to include a variety of recreational events in and around the river as well as parties, fundraisers, and speaking functions.
EVENT SCHEDULE:
Friday, June 4th: Fish Creek Race at the Mt. Werner Water treatment facility
Saturday, June 5th: Riverside Events at Charlie's Hole near the Bud Werner Memorial Library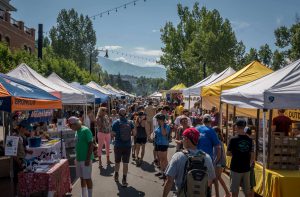 June 5th – September 18th (Saturdays 9am – 2pm)
Steamboat Farmers Market
The Main Street Steamboat Farmers Market is back! The weekly event will be held along the scenic Yampa River on Yampa Street between 6th  St. and 8th St. The Farmers Market will be on Saturdays from June 5th to September 18th, and the official hours are 9am – 2pm.
The Farmers Market will feature fresh fruit and vegetables each week, as well as local meats, cheeses, and baked goods. The market will focus on food and offer a wide variety of local and cottage industry products. Pick up fresh bread and pies, local beef, bison, pork, and lamb as well as jams, syrups, and honey. It's also a great place to stop for lunch!
Not in Steamboat? No problem! Out of town runners can enter the virtual challenge by following these instructions.
June 19th
STARS Biking the Boat & Beyond
Biking the Boat is a fundraising event held in Steamboat for a great cause! The STARS program benefits individuals with physical and/or cognitive disabilities. The STARS Biking the Boat & Beyond 2021 Ride is an open event to any and all that want to participate, or simply donate to the cause. This year, the event will be held in person, masks will be required and 6 ft social distancing (when possible) at all times during the event, unless eating, drinking, or riding. 

June 19th
Howelsen Hill Trail Run
Let the trail races begin! This is a challenging trail run on the scenic single track trails of historic Howelsen Hill. The trails of Emerald Mountain are beautiful this time of year, with abundant green aspen trees and blooming wildflowers. Distances: 8 mile and 4 mile. We promise it will be an afternoon well spent!
June 26th
Reds, Whites, and Brews
In the gorgeous setting of downtown Steamboat Springs, Reds, Whites & Brews in the Boat is the ideal event to kick off your summer in the Colorado mountains! Pricing for the event starts at $35 and goes up to $75. This event features amazing unlimited wine & craft beer tastings, live music, vendors, food, and more!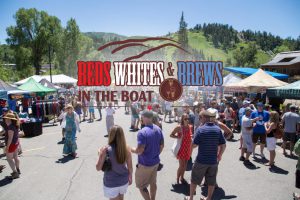 June 30th – August 18th (Recurring on Wednesdays)
Music on the Green
Every Wednesday, enjoy this free concert series in one of Steamboat's most beautiful parks. Bring your own lawn chairs, sunscreen, and the kiddos to settle in for music in the mountain air. Visit their website for more information.
EVENT SCHEDULE:
June 30th: Suzy Bouzo & Andy Pratt
July 7th: The Brian Smith Band
July 14th:  The UW-Laramie String Quartet
July 21st: Henry Howard
July 28th: Pat Waters
August 4th: Apple Pie Order
August 11th: Opera Artist Institute
August 18th: Steve Boynton
July 1st – August 28th
Steamboat Pro Rodeo Series
The Steamboat Pro Rodeo Series takes place every Friday and Saturday night all summer long! There will be special performances July 1st – 4th in celebration of Fourth of July. Rodeo shows begin at 7:30pm sharp, with the  exception of the July 4th festivities which will start at 6:30pm.  Pre-Rodeo entertainment appears on the entertainment stage from 6pm until 7:15pm.
Ticket Information
| | | |
| --- | --- | --- |
| TICKETING | PRICE | |
| Adult | $20* | |
| Children 7 – 15 | $10* | |
| Children 6 and under | FREE | |
*Fourth of July event pricing is $25/adults and $15/children 7-15. 
For more information, please click HERE.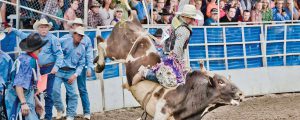 July 2nd – 5th
Fourth of July Celebration
For more than 100 years Steamboat Springs has celebrated Independence Day in true western fashion. Though many events can't take place this year due to Covid-19, Steamboat is working hard to ensure the Fourth of July is as fun and memorable as possible!
**PLEASE NOTE: Steamboat Springs is ending its longstanding tradition of hosting a Fourth of July fireworks display at Howelsen Hill for the foreseeable future. For more information, please visit HERE.
FRIDAY, JULY 3
5pm – First Friday Artwalk
SATURDAY, JULY 4
9am – 2pm: Farmers Market
9am – 10am: Yoga on the Green
10am: Red White and Blue Drive-Through
RED WHITE AND BLUE DRIVE-THROUGH
The Fourth of July parade has a new look! A new take on a classic parade, the Drive-Through Event brings all the essential elements of a patriotic procession to the neighborhoods of Steamboat Springs. The Drive-Through will eliminate groups congregating on Lincoln Ave, and allow people to adhere to public health orders and physical distancing requirements. Police cars and fire trucks will lead the procession in a rolling closure through town and streets will remain open. A live broadcast from Big Country Radio KBCR 96.9 FM will track the location of the procession.
PARADE DRIVE-THROUGH ROUTE
THE GREAT AMERICAN PICNIC
Before, during, and after the drive-through, The Great American Picnic will be available to all spectators. Enjoy classic picnic fixings from one of the many participating restaurants in town. Restaurants are offering family and romantic picnic packages, grab-n-go options, and craft cocktails to go!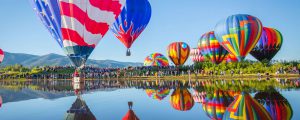 July 10th – September 28th
Coca-Cola Movies on the Mountain
It's summertime, and that means warm nights and free Saturday night movies on the Torian Plum Lawn – located at the base of the resort. Bring your own lawn chairs and blankets, and get cozy under the stars while you take in a show!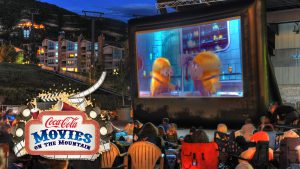 July 17th
Tour de Steamboat
The Tour de Steamboat is a legendary non-competitive cycling event offering four different route distances for riders of all ages and abilities! Event starts at 7am, and ends when all registrants have finished.
To register, please visit TourdeSteamboat.com.
September 10th – 11th
Steamboat OktoberWest
Celebrate the end of summer with beer, biking, and western-style fun! Join in on this mountain town take on Oktoberfest and get ready for a weekend full of food, beer tastings, music, and entertainment all over town!
FRIDAY, SEPTEMBER 10TH
4pm – 8pm – Beer Stroll downtown Steamboat participating restaurants
The weekend kicks off on Friday with the annual Beer Stroll. Head downtown to participating restaurants to taste a variety of seasonal and local beers.
SATURDAY, SEPTEMBER 11H
2pm – 5pm – I Love Beef Cook-Off & tasting
2pm – 6pm – OktoberWest Festival & Beer Garden
5:30pm – Announcement of I Love Beef Cook-Off winners
September 23rd – 26th
Steamboat Food & Wine Festival
The Steamboat Food & Wine Festival is a multi-day culinary experience featuring celebrated chefs, wine experts, and other gastronomic specialists from across the country. Come check out the curated dinners, wine and spirit tastings, seminars and demos.
Find more information about the event and ticketing prices HERE.
---