There's just no better way to get started on an exploration or an adventure than to fuel up with some fantastic breakfast fare. Our little slice of mountain paradise has such a vibrant and flourishing restaurant culture, you don't have to settle for lackluster cuisine while dining here. I mean, breakfast is the most important meal of the day, isn't it?
Getting breakfast or brunch in Steamboat is a particular treat because there are so many mouthwatering options to choose from. So, if you're on the hunt for the best breakfast and brunch food Steamboat has to offer, here are eleven of our favorite spots to help you choose. This list aims to help narrow down the options and save some time getting started on your adventure for the day or getting up to the mountain to hit the slopes!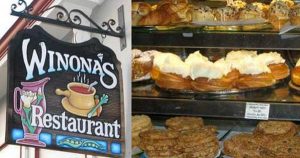 Literal heaven! Winona's is Steamboat's favorite for classic breakfast fare. Try one of their world-famous cinnamon rolls or Benedict options, but be prepared to wait! This small locally owned and operated business usually has a line out the door! This café is small but mighty, each dish on the menu fresh and vibrant, creatively made with a variety of flavors, plus a rotating bakery and pastry display by the register and a full espresso bar. Seating is a little limited inside, but they have a large outdoor seating area in front that's perfect on warm sunny days, with a few pet friendly tables on the side as well.
Local's Tip: Start your day with our specialty omelettes, huevos rancheros, breakfast burritos, and much more. For lunch try our hoagies, Philly cheese steaks, wraps, and award winning apple pie and carrot cake.
(970) 879-2483
617 Lincoln Ave., Steamboat Springs, CO, 80487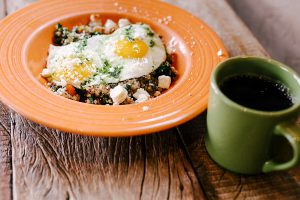 Serving up fresh and easy fare, Freshies is a local's go-to favorite for breakfast and lunch. If you haven't checked out Freshies restaurant yet, what are you waiting for? Freshies is an affordable, family friendly, neighborhood place to eat a delicious breakfast, lunch (or dinner!) They have a sunny patio for al fresco dining, a cozy firepit for a fall day, plenty of parking, a full bar and a convenient location between the town and the mountain.
(970) 879-8099
595 S. Lincoln Ave., Steamboat Springs, CO, 80487

Creekside Café is located in downtown Steamboat Springs in the historic Soda Creek building. The setting on the patio beside the creek is serene in the summertime, and warm and cozy inside during the winter months. Locally famous for their Eggs Benedict and Bloody Mary options, they aim to have a little something for everyone, offering vegetarian or vegan options. They use locally sourced ingredients and homemade elements in most dishes, and are committed to reducing their carbon footprint. Service comes with a warm smile and creates just the right amount of bustle going on around you to add to the atmosphere. The space is small and cozy, but bright and cheery with plenty of green plants placed throughout the space, which makes it a nice place to go for a breakfast date but be sure to get there early on weekends as the line can go out the door!
Local's Tip: Branch out and try something a little different! The two most popular breakfast items are their Bacon Fried Rice and the Breakfast Burrito – yummmmm!
(970) 879-4925
131 11th St., Steamboat Springs, CO, 80487

Be prepared for some of the best food you've ever had in your life! The Paramount in Steamboat Springs is a local's favorite, and for good reason. With slope access, and world-class fare, this hidden gem is the perfect option while you're dining mountainside. The Paramount offers delicious, eclectic food for breakfast, lunch, and apres ski at the base of the mountain in the Torian Plum Plaza. EVERYTHING is made from scratch using only the highest quality ingredients. Our bar serves espresso, beer, wine & specialty drinks featuring in house flavored liquors and fresh juices.
(970) 879-1170
1855 Ski Time Square Drive, Torian Plum Plaza, Steamboat Springs, CO, 80487

Blast from the past! Johnny B Goods Diner is serving up classic diner food in in downtown Steamboat Springs. Down to the retro decor, they have the cutest classic 50's interior design, with plenty of banquette booth seating to choose from, old-timey milkshakes, and retro lighting galore, one will feel like they've taken a step back in time upon entering. They specialize in classic American diner cuisine, perfect for the whole family!
Local's Tip: The French toast is one of our favorite menu items, the bread has a crispy exterior so it doesn't get soggy, and a light fluffy interior. Also, over 21? Try a boozy old-fashioned milkshake!
(970) 870-8400
738 Lincoln Ave., #775285, Steamboat Springs, CO, 80477-5285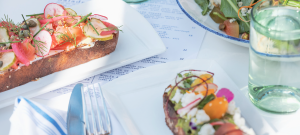 With their tall, bright white walls, tropical plants all around, sunlight filtering in through several skylights, fresh flowers on the tables and art throughout, it's a place you could easily spend an hour or two talking with a friend over breakfast or taking some time to work remotely for a bit. Yampa Valley Kitchen (or YVK as the locals call it) has turned into a staple for elevated healthy dining. They source their produce & meats from local ranches in Colorado as often as possible, and offer plenty of gluten free, vegan, and vegetarian options.
Local's Tip: Their menu is great for those looking for something lighter or trying to stay fit!
(970) 875-3989
207 Ninth St., Steamboat Springs, CO, 80487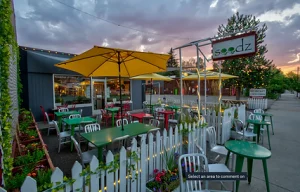 Looking for something lighter? Seedz in downtown Steamboat may just be the ticket. Their menu highlights organic produce, sustainable & wild fish, hormone, antibiotic & nitrate free local meats. As well as a wide variety of gluten free, vegan & vegetarian options. For those with sensitive diets, you can swap out any proteins on the menu, and any of can be made gluten free as well.
(970) 761-2276
1117 Lincoln Ave, Steamboat Springs, CO 80487
Don't be fooled by the humble storefront and location next to City Market! The original Colorado Bagel Company in Steamboat Springs is a breakfast spot that should not be missed! Eat in and take your food to go on an adventure! This casual eatery offers home-made bagels & cream cheese and friendly service.
Local's Tip: This is a perfect place to grab food for your entire crew!
(970) 870-9657
1815 Central Park Drive
Steamboat Springs, Colorado 80487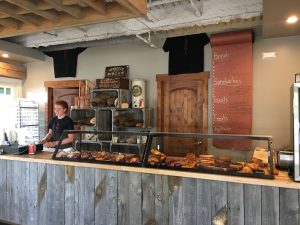 Tucked away in the cutest little storefront on 11th Street in downtown Steamboat Springs is a wonderful group of bakers producing incredible rustic bread and classic pastries that you won't want to miss when you're in the area. Smell That Bread is retail bakery providing artisan bread and baked goods in Steamboat Springs.
Local's Tip: Try their AMAZING kouign amann! You won't be disappointed.
(970) 761-2692
135 11th St, Steamboat Springs, CO 80487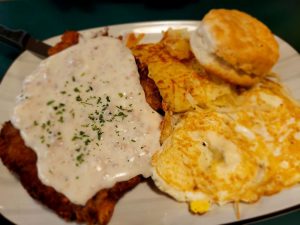 The Shack Café has been serving traditional breakfast food to locals and guests for more than 50 years. Pull up a tufted barstool and enjoy the feelings of a rustic mountain . Recently under new ownership, the new owners believe one should be able to get a decent coffee & poached egg in the same place. They have a walk-up coffee counter if you simply want to grab a coffee to go or some quick take out. And, The Shack is one of the only places on this list that breakfast is served all day!
(970) 879-9975
740 Lincoln Ave, Steamboat Springs, CO 80487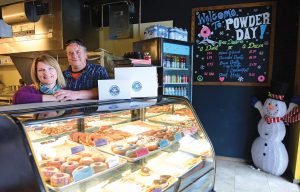 "A sweet spot for snow nuts!" A unique donut and coffee shop, located in the heart of downtown Steamboat Springs, this local's favorite is dedicated to encouraging "bad habits." Powder Day Donuts prepares everything in-house and is famous for their zany flavor combinations and boundless bacon options. Terrific coffee will make your meal even tastier and keep you coming back for more!
Local's Tip: Show up early! Powder Day Donuts is open Wednesday thru Sunday from 6:30am til Sold Out…or Noonish.
(970) 761-2023
941 Lincoln Ave, Steamboat Springs, CO 80487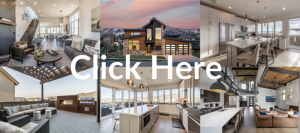 Where To Stay
After a day of culinary fun, there is nothing better than luxe accommodations like those found at the Steamboat Lodging Company. All homes are set up with your ultimate comfort in mind. Get an amazing night's sleep on your bed fitted with deluxe linens, relax in your seating area, or simply step just outside and enjoy the spectacular views of the Yampa Valley… book your stay with us today!
For more info about Steamboat Springs, CO check out these other great resources: