Any parent of a young child knows that the secret to a great vacation is managing your kid's time wisely. That said, when you're a visitor in Steamboat, there may be times where you want to venture out without the littles. Whether it's a night on the town or a ski date with a loved one, you should feel confident and assured that you've found the right place and establishment for your child to explore, have fun, and enjoy their time in the mountains.
In a place as diverse as Steamboat, there are plenty of ways to keep kids engaged during the summer and winter months. Below are a few of the best services we recommend to help you not only look after your kids while you are away, but will also keep them entertained and have fun as well.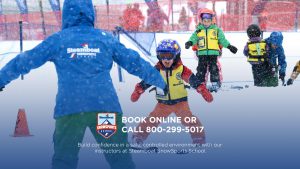 STEAMBOAT RESORT CHILDCARE & KIDS LESSONS
SKIERS AGES 12 MONTHS TO 4 YEARS
The Steamboat Happy Camp programs are second to none. A one-stop-shop for families with small children, all Happy Camp lesson products include lift access, lunch, lesson instruction and equipment rental option. The goal os Happy Camp is to cheer and inspire & encourage and entertain! This is a place for FUN! The trained instructors become your child's biggest fan while teaching the basics of the sport. The program is designed around taking care of children in a safe, nurturing environment, in an age-appropriate setting.
SKIERS & SNOWBOARDERS AGES 5-12 YEARS
Built just for kids – with parents in mind– Kids camps and lessons are Steamboat's hub for all things outdoors. The goal is to be the place where your child's earliest mountain memories are made and where pure fun is had, day-after-day and year-after-year. Welcoming cowgirls and cowboys ages 5-12 years old, kids camps and lessons and follow the simple progression of "first comes passion, then comes skills." Lessons are from 9:00am to 3:00pm and lunch is provided.
SKIERS & SNOWBOARDERS AGES 13-17 YEARS
Steamboat teen group lessons are tailored specifically to meet the educational needs of the age and skill level. Your teen will be matched with others of the same ability level-appropriate groups and the right instructor to maximize the time on snow. Lunch is provided.
PRODUCT
AGES
LESSON PRICING
PEAK SEASON PRICING
Happy Camp Childcare
12 months – 2.5 years
Advanced: $159
Window: $169
Advanced: $239
Window: $249
Happy Camp Lesson
2.5 – 4 years
Advanced: $239
Window: $249
Advanced: $299
Window: $319
Kids Camp Lesson
5 – 12 years
Advanced: $239
Window: $249
Advanced: $299
Window: $319
Teen Lesson
13 – 17 years
Advanced: $239
Window: $249
Advanced: $299
Window: $319
Prices, products and procedures are subject to change at any time without notice. Advance purchase discount only applicable if made at least 7 days prior to arrival. Peak Season dates: Dec. 17, 2021 – Jan. 2, 2022; Jan 14 – 17, 2022; and Feb. 18 – Mar. 22, 2022
KIDS PLAY GARDEN
Kids Play Garden is a creative learning arts center that was designed to be environmentally conscious, using eco-friendly materials and cleaning products. All food served at Kids Garden is wholesome, nutritious and peanut-free. Stop by any time we're open and, after a one-hour minimum, pay by the minute.
Kids Garden is not just for childcare. It's a drop-in learn & play child care solution where kids build, create, exercise and play. Children come here to explore and learn in an eco-friendly, safe and secure play space under the supervision of experienced teachers. Every weekday morning, Kids Garden offers a special eco-friendly, flexible preschool curriculum designed for children 2- 5 years. Children do NOT have to be potty trained!
345 Anglers DR STE B.,Steamboat Springs, CO, 80487

STEAMBOAT BABYSITTING COMPANY
Steamboat Babysitting Company provides safe and reliable childcare in Steamboat Springs, Colorado. Credited and insured babysitters can easily travel to your rental property to provide quality care for your little ones. Leave your kiddos in safe hands, and be assured that they are having fun while you're away. Steamboat Babysitting Company provides care for newborns to teens. Reservations are taken on a first come first serve basis, as have a limited number of staff. Reservations in advance are highly recommended.
Steamboat Springs, CO, 80487
MAYBE IT'S A BETTER DAY FOR INDOOR FUN?
Want to spend time with your child off the slopes? Outside of ski school or daycare, Steamboat Springs still has a lot to offer for the kiddos!
For more info about Steamboat Springs, CO check out these other great resources: