Steamboat Resort is known for its Champagne Powder, snow so light and fluffy, it tickles your nose like champagne bubbles. But what if you're not here to ski but still want to enjoy the snow and have some winter fun?
Not to worry, Steamboat Springs fun doesn't start at the top of the gondola and end at the base area. Steamboat provides activities for all ages and we do not discriminate when it comes to having FUN in the Yampa Valley. For guests who've never stepped foot on skis, family members who want additional options, or skiers and riders who just want to take a day to enjoy something new, Steamboat has something for everyone.
Here are some of our top choices for fun activities in Steamboat when you're not hitting the slopes.
1. Dog Sledding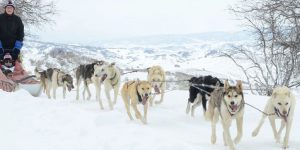 Come explore the untouched wilderness with Grizzle-T Dog Sledding. A dog sledding adventure is just what you need if you're skipping the adrenaline on the ski mountain. With single person & group trips available, this high-adrenaline activity offers something for everyone including morning and afternoon trips. Explore the Steamboat wilderness  while being pulled by your own "pack" of dogs.
2. Helicopter Tour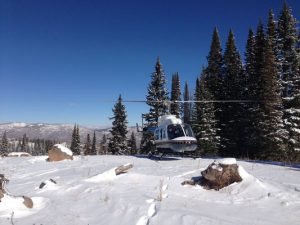 Why not soar above the snow-capped peaks of Steamboat and marvel at the snowy scenery below in a helicopter? With a Zephyr Helicopter tour, you could make that a reality as they will take you above the Yampa Valley and set off soaring over the Rockies. With some of the most majestic views around, a helicopter tour will not disappoint.
3. Horseback Riding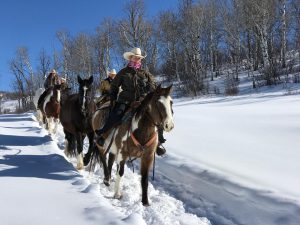 Take it easy and saddle up to try out some of Steamboat's Western heritage with a guided horseback tour at Del's Triangle 3 Ranch. The horse-riding trails will take you through some of Steamboat's most fantastic wilderness areas and also through parts of certain National Forests. Experience wildlife up close and personal and get in touch with nature while your horse sets the pace.
4. Fat Biking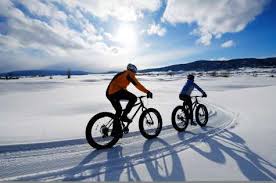 Fat biking is rolling strong, with followers taking to the groomed trails of Howelsen Hill & more. Most bike shops around town rent snow bikes for lift-served riding – no pedaling required – or you can take off on your own and explore the groomed trails on Emerald Mountain. For a complete listing of local trails visit RouttCountyRiders.org.
5. Hot Springs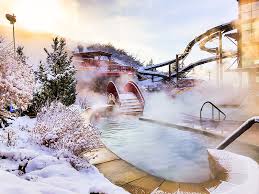 Come soak, relax and rejuvenate in the year-round, natural outdoor hot spring pools at Old Town Hot Springs, right in the heart of downtown Steamboat Springs, Colorado. Fun for the whole family, the pools have been here for over 100 years, enjoyed by the Native American Ute Indians who first settled the area and later the first homesteaders. There are large lap pools for swimming, open pools to relax in, small pools to soak in, and even a fun climbing wall for kids of all ages!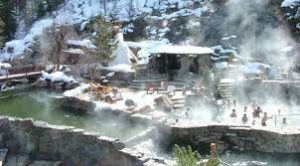 At the end of an active day, a relaxing soak in a natural Colorado hot springs mineral pool can be just what your sore muscles need. The natural hot springs at Strawberry Park are one of Steamboat's many natural treasures. The Strawberry Park Hot Springs, located less than 7 miles from downtown, features therapeutic, thermal pools with temperatures from 101-105 degrees in a rustic mountain setting. Make sure to make a reservation in advance.
6. Snow Tubing & Sleigh Ride Dinner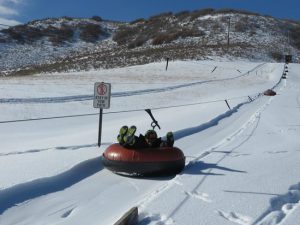 Get outside for some fresh air and warm eats. Pull down your hat and strap on your spurs, this package includes an hour and a half of tubing on Saddleback Ranch's Yee Haw Tubing Hill – a favorite winter activity in Steamboat Springs for both kids and adults alike. After your tubing adventure, it's time for your family fun sleigh ride dinner. This family-friendly activity is the most popular option at Saddleback Ranch and creates memories to last forever.  Saddleback Ranch offers a free shuttle to their facilities but requires a tubing reservation.
7. Hot Air Balloon Rides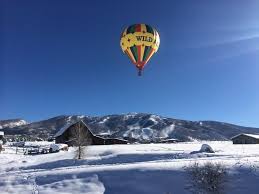 Do you want to soar above the Rocky Mountains and the beautiful Yampa Valley? This is the experience for YOU! Wild West Balloon Adventures offers a birds-eye view of the entire Yampa Valley, the Flat Top Mountains, as well as the inactive volcano Hahn's Peak. The balloon ride takes off in the morning when the Yampa Valley is sparkling with the sunrise. Reservations are required.
8. Ice Skating
Feel the Thrill of the Chill! The City's Howelsen Ice Complex is the only indoor ice rink in Steamboat Springs. With its Olympic size sheet of ice, the Howelsen Ice Complex hosts an array of activities and programs. From figure skating classes, hockey leagues, private rentals, and public skating you can find it at the coolest place in town. Plus, new this year, check out the free-to-use outdoor rink at the base of Howelsen Hill.
Skeeter's Ice Skating Rink is now open at the base of Steamboat Resort. This brand new addition is the centerpiece of the newly updated Steamboat Square. The rink is free to the public with their own skates. Skate rentals, both hockey and figure skates, are available for a fee for adults and children, first come, first serve. Guests must be wearing skates to enter the rink.
Hours of Operation:
Thurs – Sun 12:00pm – 8:00pm
Mon – Weds 12:00pm – 6:00pm
Weather permitting

9. Main Street Steamboat Shopping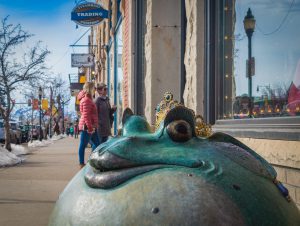 Downtown Steamboat Springs is the heart of the community and offers an array of shops for everyone to explore. From 3rd to 13th Street, and from the Yampa River to Oak Street, we have shops, restaurants, art galleries, and spas. We've got it all in Steamboat Springs from outdoor apparel to fine art galleries to sweet tooth lovers – you can find souvenirs for the whole family while strolling down Lincoln Avenue in the heart of downtown Steamboat. Some of our favorite shops include Ohana for custom mountain gifts, Fuzzywig's Candy Factory for your sweet tooth, Urbane for the stylish one in your group, and the Elevated Olive for tasty treats to take home.
10. Spa Treatments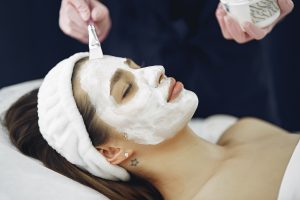 Unwind from a day enjoying the outdoors with a specular spa experience in Steamboat Springs. Our local spas & salons specialize offer an array of services including body treatments, traditional massages, and luxurious body wraps. Plus, slide into one of the massage chairs at our many nail salons for an hour worth of pampering and self-care. Some of our favorites include Waterside Day Spa, Y Nails, Rocky Mountain Day Spa, and Old Town Nails.
11. Lucky 8 Ranch Buffalo Tour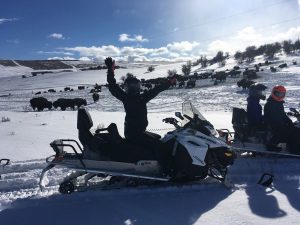 Tucked away in the hills beyond Steamboat Springs, CO in a little town called Oak Creek, is an incredible 3,000+ acre ranch, home to Colorado's largest buffalo restoration project. The Lucky 8 Ranch has been family owned and operated since 2014 and hosts over 500 head of bison (and growing) along with horses, alpacas, llamas, and chickens. Lucky 8 Ranch is the only touring Buffalo Ranch in Colorado, so we are so incredibly fortunate to have this right in our backyard!