This coming winter in Steamboat Springs, CO is shaping up to be unlike any we've seen before. The world has become a different place over the last nine months, but one thing is for sure, we still want to ski!
Locals and visitors alike are still counting on the crisp clean air, the majestic mountain vistas, and the unbeatable adrenaline rush of cruising down the slopes and slashing fresh powder turns on Mt. Werner. We've put together some useful information below to help guide visitors around town and aid in a successful, fun, and safe winter season in Steamboat for all.
Steamboat in the winter
ON MOUNTAIN
Steamboat Resort, and its 3000 acres of skiable terrain, is the primary winter season draw for visitors to Steamboat. That being said, there are inevitably the occasional crowds and lines. But this wonderful place also provides a great opportunity for safe outdoor recreation this winter. What better place to distance ourselves from others than on top of a mountain!
Rest assured knowing that Steamboat Resort is taking the safety of its guests seriously. There will be many differences at the mountain this year from capacity restrictions, new lift line procedures, reimagined on-mountain dining, and the highest standards of employee safety.
Here are a few important things to remember and some tips to make your skiing experience top notch:
You WILL be required to wear a mask at all times in any indoor facility including rental and retail shops, restaurants, lodges, and even in the gondola & lift lines.
Book your necessities well ahead of time (lift tickets, ski rentals, lessons, etc.) You can't get lift tickets at the window this year, and getting a lesson for the day or the pair of skis you need might not be an option if you don't plan ahead! We have deals on lift tickets (up to 20% off!) and ski rentals (up to 25% off & free delivery!) on our DEALS tab.
On busy days, you may not be able to get into the lodge for a bite to eat or a warm up right away. The resort has strict capacity requirements to follow. It's a good year to make sure you don't forget to pack snacks and hand warmers. Check out some of the on-mountain dining options & requirements this year. Ski around the mountain to find Taco Beast or Pizza Ranger – they move every day and you can put your food order in while you're skiing!
Don't get frustrated with lift lines. We have to stay 6 feet apart and can't ride with strangers this year. Even with reduced capacity, the lines might seem especially long at times this year. Try to keep a good attitude and be happy you are skiing!
Plan ahead for transportation to the slopes. Shuttles will be operating at limited capacity and you may have to wait for a ride. Find the easiest/safest way to the slopes, whether it be walking, a member of your group dropping everyone off, or booking a ski in/ski out condo. Also, don't be afraid to head to the mountain during off hours… Ask a local, sometimes an 11am start is actually the way to go!
**Check out Steamboat Resort's Trail Forward Initiative for more specifics about winter 20/21 mountain operations***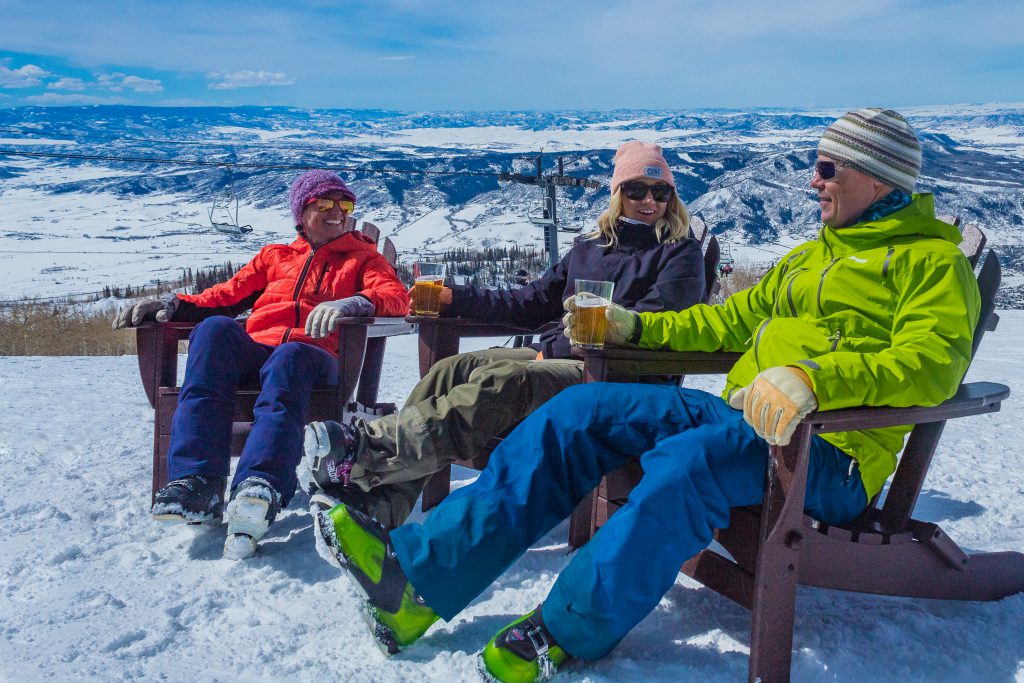 IN TOWN
Your après ski and night life experience in the town of Steamboat this winter will also likely look a little different from past years. We've all gotten fairly used to reduced capacity at restaurants and in retail establishments across the country over the last few months, and Steamboat will be no different. Keep these items in mind when planning your time in town:
Yurt at Aurum Food and Wine
Make reservations!!! This has always been important when dining out in Steamboat, but with indoor seating at a premium this year, planning ahead and making reservations for restaurants is going to keep your group happy and prevent standing out in the cold waiting for a table to open at your favorite spot.
Check out the new and creative ways Steamboat businesses are adapting! Aurum Food and Wine is introducing private yurt dining, and Mountain Tap is introducing private repurposed gondola car dining. Reservations encouraged/required.
Hire a private chef or caterer to come to your home so you can stay in. We have a few favorites in town including Chef on the Run, Ski Town Gourmet & Drunken Onion.
Shop local. Keep our little mountain town thriving and buy gifts, gear, and souvenirs at locally operated establishments. Retail capacity may be restricted, but your support is encouraged and greatly appreciated by local business owners. Our favorite gift store is Ohana – we promise you can't leave here with a unique Steamboat present for someone special.
ACTIVITIES
We know that enjoying the slopes isn't the only reason to visit this special place, and that "rest day" activities are an important part of the whole Steamboat experience. Local businesses are doing everything possible to ensure all the other fun activities aside from skiing that draw visitors are still available to experience this winter. Read through the tips below for getting the most out of your time off the mountain:
Outdoor ice rink at Howelsen Hill
Try something new this year! There are so many things to do in Steamboat besides hitting the slopes. Go on a dogsledding or a snowmobile tour. Rent a pair of cross country skis or snowshoes and get in touch with nature. Head out to Saddleback Ranch for a day of tubing. Book a guided trip to fly fish on the Yampa River. Take a ride in a hot air balloon. The possibilities are endless.
We are starting to sound like a broken record here… but make a reservation!!! Whether it's for one of the activities above, or the very popular Strawberry Hot Springs, you're going to want to lock in your spot well ahead of time no matter what you do this winter.
New to town this winter season, the City of Steamboat is building an outdoor skating rink downtown! Check it out from December to March at the base of Howelsen Hill.
Large group gatherings, such as Winter Carnival, Music Fest, Winterwondergrass, and the Rock the Boat winter concert series are going to be a lot different looking, or nonexistent this year. They are all a big part of the Steamboat winter charm, but we do have to make some sacrifices to keep the community safe this year. Stay back at the lodge and play cards or board games with the family this trip. We'll see you at the party next season!!