Just because the day ends, doesn't mean the fun has to! Get in on the adventure after dark with the perfect way to get a few more laps in after the sun sets. Steamboat Resort offers night skiing Thursday, Friday, Saturday, and Sunday now through March 24th, 2024. Night skiing includes 1,100 vertical feet of terrain under Steamboat's state-of-the-art Ultra-Tech™ Lighting that illuminates the runs for easy seeing & skiing. The Christie Peak Express is a 6-person high-speed chairlift with both a midway stop point and a peak stop point topping out at 8,000' in altitude. Lift access includes five trails including Sitz, See Me, Vogue, Stampede and Lil' Rodeo. All levels of skiing and riding will be available with two beginner, two intermediate and one advanced trail. Stay up late with us as you cruise down and embark on your nighttime adventure!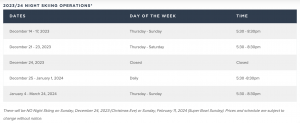 There will be NO Night Skiing on Sunday, December 24, 2023 (Christmas Eve) or Sunday, February 11, 2024 (Super Bowl Sunday). Prices and schedule are subject to change without notice.
NIGHT LIFT TICKET PRICING


These are 2023/24 season rates. Prices and schedule are subject to change without notice.
* Holiday dates: 12/23/2023 – 1/1/2024, 1/12/2024 – 1/14/2024, 2/16/20234- 2/24/2024. **Advance purchase rates require 7 day advance purchase.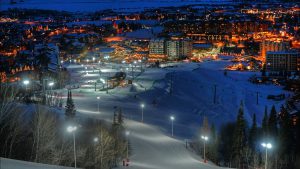 HOW DO I GET MY TICKET(S)?
When you purchase a lift ticket, night skiing ticket, scenic gondola ride or mountain coaster ticket, you will receive an email confirmation with a "Print Voucher" link. Scan the bar code in your Print Voucher link confirmation at one of our Pick Up Kiosks in Steamboat Square. Your ticket will print out and you can proceed directly to the lift (or coaster).
If you already have a lift card for a different product or day, your new ticket will load onto the same card and will be able to scan directly at the lift (or coaster) on your activity start date.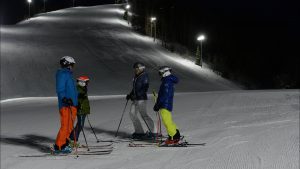 For more info about Steamboat Springs, CO check out these other great resources: