Coming to Steamboat this winter? Packing for your trip can seem daunting if it's one of your first times traveling to the mountains. But, the most important thing is getting your group to Steamboat and to start having fun as soon as possible!

Here at Steamboat Lodging Company we love to make things easy for our guests, so we have put together these suggestions and a checklist of how to pack, and what to pack for your Steamboat adventure. Our goal is make the process as seamless as possible, so you can play hard and rest easy as soon you arrive in beautiful, snow covered Steamboat Springs, Colorado!
Packing Suggestions:
Seven days prior to your vacation, pick a place in your home where you can start laying out the items you will need to bring. A guest bedroom is a great spot. Choose the luggage and carry-on you plan to use.
*Special Note: If you are a mom packing for the entire family, you go girl! Your husband and kids will owe you a

massage

 at one of our amazing Steamboat spas. Moms, you may want to start nine days prior to arrival to give yourself extra time and reduce your stress levels.
Think "pack light". Our Steamboat vacation rentals have washers and dryers.
Pack layers. You'll want a base layer (light insulation that wicks away moisture – NO COTTON), a mid-layer (traps heat and is breathable – light fleece are nice), and an outer layer that is windproof, breathable and waterproof.
Leave the dress clothes at home and pack a few 

pair

 of jeans and a nice fleece and sweater. You can wear them everywhere in Steamboat, even our finest restaurants.
If You Live in a Warm Climate and Don't Own Winter Clothing
Check out winter gear rentals at Ski Haus, conveniently located just two miles from the Steamboat Ski Resort. They have tons of great options, including our favorite local brands like Point 6, Smartwool, BAP, and Town Hall outerwear for kids!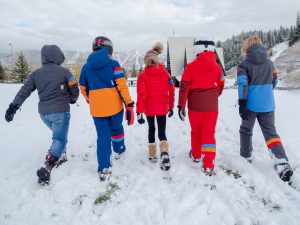 Packing Checklist:
For Skiing & Snowsports:
Warm, waterproof ski jacket
Lightweight, waterproof ski jacket
Waterproof ski pants
Snow boots with a tread
Waterproof ski gloves
Lightweight gloves
Ski socks
Quality long underwear- top and bottom, no cotton
Extra layers – Under Armour shirts are great
Goggles with extra lenses for different light
Neck warmer/gaiter
Sunglasses- the Colorado sun is bright!
Ski helmet- you can rent one if you don't own one
Thin hat to wear under your helmet for cold days
Baseball hat or beanie to hide your "helmet head" after skiing
Sunscreen
Lip balm with SPF
The kitchen sink – just kidding!
For Après Ski Steamboat Fun:
Bathing suit for the pool, hot tub or our famous hot springs
Flip flops or sandals
Jeans to wear to dinner
Sweater or fleece
Apres ski boots – something comfy!
Charging cables
Headphones
Toiletries
PJ's
Undergarments
That book you've been dying to read. We have a fireplace to curl up next to waiting for you in Steamboat Springs!
Happy Packing and Happy Trails! We'll see you soon in Ski Town, USA!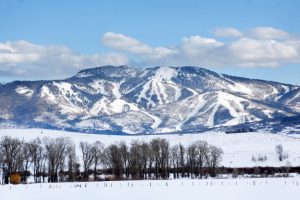 For more info about Steamboat Springs, CO check out these other great resources: