Skiing & Snowboarding in wild Colorado can be an extreme sport. When traveling to remote mountain locations, dangerous conditions can be present (even within resort territory.) It's very important to know how to recognize terrain, and ski/ride within individual limits, and stay safe when exploring America's wilderness.
Steamboat has earned a world renowned reputation for its tree skiing/riding and signature Champagne Powder™. Playing within the tree areas and deep snow is an individual choice, and carries a fair amount of responsibility with  inherent risks. A fall into deep snow or a tree well can be suffocating and fatal, and knowing how to ski & ride safely in all conditions is critically important when skiing off-piste.
FROM THE RESORT:
Be aware of deep snow conditions, tree wells and other natural and man-made obstacles. Do not ski/ride too close to trees in deep or windblown snow conditions.
If skiing/riding in deep snow or near trees, stay with a partner and remain in visual contact.
Stay close enough to either pull or dig out your partner.
If your partner becomes immersed, first try to clear an airway, then call Ski Patrol, 970-871-5911.
For further information visit avalanche.state.co.us.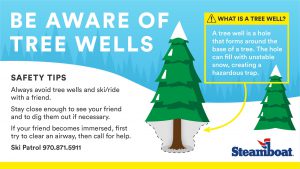 TREE WELL FAQ – FROM THE RESORT:
WHAT IS A TREE WELL?
First of all, trees are an important and integral part of the natural mountain environment and exist across ski areas, predominantly in the ungroomed areas of the resort. A tree well is an unstable hole or depression that forms around the base of a tree when low branches prevent snow from filling in and creating snow pack around the trunk.
HOW DO I KNOW IF A TREE WELL EXISTS?
Usually there is no easy way to identify if a particular tree has a tree well by sight, because the branches often block visibility of what hole may exist. Individuals should assume a tree well accompanies every tree.
WHAT'S THE DIFFERENCE BETWEEN ASPEN AND EVERGREENS?
The biggest difference is Aspen typically don't have low-lying branches, which can hide tree wells and help them form like what you see with Evergreen trees.
HOW DO I PREVENT FROM FALLING INTO TREE WELL?
Fortunately, the risk of falling into a tree well is completely avoidable and preventable. Precautions include but are not limited to:
Avoid skiing/riding too close to trees, particularly evergreens, in deep snow or after heavy snowstorms
Assume all trees have a potentially hazardous tree well
Do not ski/ride alone
Keep one's partner in sight
Be aware of your surroundings
ARE TREE WELL ACCIDENTS MORE LIKELY TO OCCUR IN MORNINGSIDE PARK?
Absolutely not, no matter where you ski/ride on the mountain, individuals should understand tree skiing is not groomed and hazards may exist at any time during the season.
ARE TREE WELLS THE ONLY SNOW ELEMENT I NEED TO WORRY ABOUT?
No, individuals should be aware of encountering deep, ungroomed snow at any time on the mountain. Skier/riders should pay particular attention after heavy snowfalls.
WHAT DO I DO IF SOMEONE FALLS INTO DEEP SNOW/TREE WELL AND CAN'T GET OUT?
If your partner becomes immersed, first try to clear an airway, then call Ski Patrol for help 970-871-5911.
I HEARD THERE ARE NO FRIENDS ON A POWDER DAY?
The old adage 'there are no friends on a powder day', couldn't be further from the truth. Always ski/ride with others and remember deep snow conditions, tree wells and other natural and man-made obstacles may be encountered at any time, anywhere on the mountain.

Safety Hint: Never Ski or Ride alone, always go with a buddy.
HOW DO I REACH PATROL?
Steamboat Patrol Dispatch may be reached via phone at 970-871-5911 or by most resort employees via mountain radio.
For more info about Steamboat Springs, CO check out these other great resources: