Did you know that Steamboat Springs has long been considered both a premiere winter and summer destination? As the site of the world famous Flat Top Mountains, The Mighty Yampa River, Sleeping Giant, Emerald Mountain, Fish Creek Falls, and Strawberry Hot Springs – Steamboat is on many people's bucket lists to visit and explore.
And, what can be found at the tippity-top of most people's bucket lists, is of course, a serene hot air balloon ride – high above the ground, and soaring through the sky. Imagine drifting across the Yampa Valley, hair gently blowing in the wind, safe and secure in your basket, with Sleeping Giant & Steamboat Resort beneath your feet. Sounds like a dream, doesn't it?
During your visit to our tiny slice of mountain heaven, take your vacation to new heights with a premier hot air balloon ride with Wild West Balloon Adventures. Whether you're looking for the perfect moment for your romantic getaway, a group event, or a fun family activity – nothing beats this memorable experience in the sky. To help you get started, here are some fun facts and insights from our favorite local hot air balloon company.

History
Wild West Balloon Adventures was started in 1998 by Ian Cox, a longtime Steamboat local. Ian began flying balloons in the Yampa Valley in 1982. Originally from England, he moved to Steamboat in 1979. With his passion for the outdoors and an entrepreneur's mindset, ballooning was the perfect fit for him.
Shortly after starting Wild West, Ian bought Pegasus Balloon Tours, and successfully operated both businesses with his wife Shelley for two decades. After a few years on the crew, Bud Whitehead began flying balloons with Ian in 2011. He and his wife Stacia bought the business on January 1st, 2018. To this day, you will still see both the "Wild West" and "Pegasus" balloons flying over the Steamboat valley.

Pre-Flight
Once arriving at the take-off site, you will be welcomed with complimentary local pastries and coffee. You'll witness the incredible feat of the 111,000 square foot balloon being inflated by larger than life motorized fans, and even help a bit in the process!
Professional photography is included by Wild West Balloon Adventures, so don't be afraid to ask for more than one picture taken of you, or your group. The high definition cameras used provide great photos, and you can then focus on the experience fully. Rather than having your phone out, scrambling, or worrying about getting that perfect shot. What great service!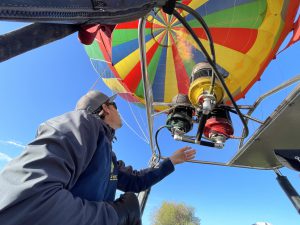 Up, Up, and Away
And you're off! The balloon will fly low enough to admire some of the local wildlife, and up to several thousand feet which provided great views of the mountain ranges surrounding the area.
There is no bad view out of the balloon, everywhere you look is a new breathtaking moment – you will be filled with gratitude and appreciation for the vast world we live in.
Hip Tip: This would be a perfect way to celebrate a special occasion or even propose! From the owners Stacia & Bud Whitehead, they have had a 100% success rate of "YES!" proposals.
"We get to share all sorts of special occasions with our passengers. Many people choose a balloon flight to celebrate something special. We have had numerous proposals (no one has ever said no!) wedding ceremonies during flight, birthdays , anniversaries, graduations, etc."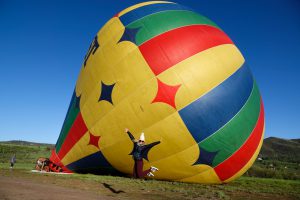 Back to Earth
One of the best parts? The champagne toast after hitting the ground (smoothly!) – A much welcomed treat after an early morning wake up call.
Wild West Balloon Adventures has everything in order to make your hot air balloon ride an unforgettable experience. The fun & informative after-flight story time, the festive champagne toast – and all the little details, including handmade hot air balloon ornaments and the super soft t-shirts for sale. You will even receive a certificate of your experience post-flight. What a treat!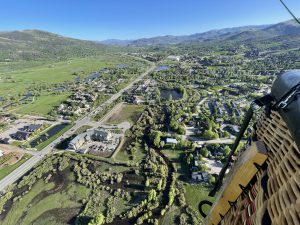 A Little (Important) Info
Safety: Thankfully, hot air ballooning is one of the safest forms of flight. Each balloon pilot holds more than 100's of hours of flying experience, and a Certified Pilot's License. Not only are the balloons inspected regularly, but flights only go out in optimal weather conditions – safety is the Wild West Balloon Adventure's number one priority.
Weather: Before drifting away, the weather needs be to just right. If it's too windy or other unstable weather conditions arise, your flight will be rescheduled, if possible.
Duration: The flight time is approximately 45 minutes, but leave about 1.5 – 2 hours open for the entire hot air balloon experience.
What To Wear: Wild West Balloon Adventures offers early morning flights year-round, making this experience both a perfect summer AND winter option. Surprisingly, it is quite comfortable in the basket in all seasons of the year, as the heat coming off the balloon creates a comfortable ambient temperature for soaring through the sky. Make sure to wear lots of layers, though, as temperatures will change throughout the early morning.
Rates & Ability: Rates are approx. $275 per person, and you must be at six years old to ride. Baskets can hold up to 8 people, and can be a mix of smaller groups, or one large group. Call (970) 879-9191 or email info@wildwestballooning.com to inquire about reserving a private basket for your group flight. To book and see full availability, click HERE.
No wonder Wild West Balloon Adventures is rated the best balloon flight in Steamboat Springs. For more information, check out their FAQ's HERE.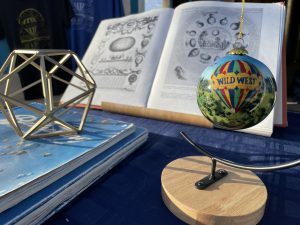 Where To Stay
After a day of exploration in Steamboat Springs, there is nothing better than luxe accommodations like those found at the Steamboat Lodging Company. All homes are set up with your ultimate comfort in mind. Get an amazing night's sleep on your bed fitted with deluxe linens, relax in your seating area, or simply step just outside and enjoy the spectacular views of the Yampa Valley… book your stay with us today!
A hot air balloon ride is an unforgettable way to see the jaw-dropping Colorado landscape from a new perspective! Floating over the Yampa Valley as the area is illuminated by the rising sun is a memory that will stay with you forever. We highly recommend staying with Steamboat Lodging Company & flying with Wild West Balloon Adventures!
For more info about Steamboat Springs, CO check out these other great resources: