Steamboat Springs offers a wealth of fun summer activities to participate in with the family. Here is our top ten list of our favorite family activities you can find here in the 'Boat!
---
1. Get Outside and Explore
The air is fresh and clean and the mountain scenery is lush and green in the summer months. One of the best ways to bond with your family is to get outdoors for a hike. Starting in May, look for wildflowers to start blooming along the sides of trails in the lower valley.  During the months of June and July, the hillsides of the upper elevations will be exploding with wildflowers, including an abundance of the Colorado state flower, the Blue Columbine.  During the later summer months, longer more adventurous trails become accessible that can take you high in the rocky mountains.
Local Tips:
Prepare accordingly: Bring plenty of water, a packable rain jacket, a small first aid and blister kit and snacks to keep the appetite down and spirits high.
Check the forecast – On most summer afternoons showers and thunderstorms pop up, although most are short-lived, some can be severe with plenty of lightning.  If possible, when there is potential for storms either don't go or try to be done before noon.
Wear appropriate footwear – sturdy sneakers with good ankle support at a minimum but if you have hiking boots, we suggest those.


---
2. Go Mountain Biking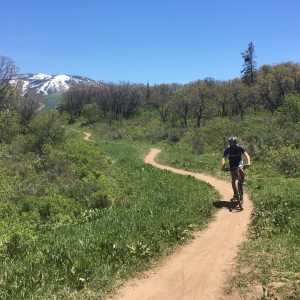 Steamboat is building its reputation as "Bike Town USA" by adding new mountain bike trails for all ages and ability levels every summer. Many of the trails around Steamboat weave through lush aspen forests on winding trails. If you know the area a little bit, we love the trails on Emerald Mountain and on Buffalo Pass.  If you're ready to raise your adrenaline levels, check out the Steamboat Bike Park at the Resort. There are trails for beginners, intermediates and experts all promising to give you a thrill. If you're a novice, we suggest a lesson from the pros.
In addition to the dirt trails, the roads around Routt County provide ample road biking opportunities and breathtaking scenery.


---
3. Hang out Downtown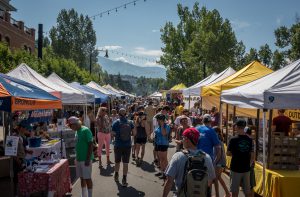 We believe that hanging out is considered an activity, especially on vacation and especially with your family! The first thing you will notice about hanging out in downtown Steamboat is the inviting and laid back feel in the air. Choose from ample shops and restaurants to lighten your pockets and fill your bellies.  Art galleries, clothing boutiques, breweries, family parks and riverside establishments fill downtown Steamboat. Check out our dining guide for some of our downtown favorites.
There are also an array of events that take place in downtown Steamboat over the summer including the Farmers Market (every Saturday), 4th of July Parade, beer festivals, wine events, love music and more. Check out our events calendar here!
---
4. Tube the Yampa River
This is Steamboat's favorite summer past time and rightfully so, it's extremely relaxing and anybody can do it.  You must wait until early to late June when the spring runoff subsides enough for tubing to become safe. Many places along Yampa street provide tube rentals and you can drop right in the river there.  Blue Ski West even provides a shuttle back to town when you are through. For a longer float, buy tubes at a sporting good store around town and use the city's free bus to shuttle you up to Rotary or Fetcher park and float back to town. Check out our tips for getting on the water in Steamboat.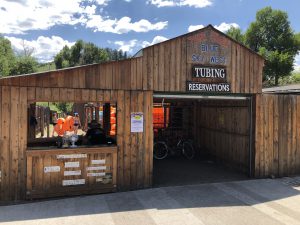 Local Tip: Please respect the Yampa River.  Flip flops, sunglasses, cans, and water bottles are all easily lost while tubing and result in lots of trash in our most cherished Steamboat resource.  Do not wear flip-flops that can easily fall off your feet, but instead sandals with straps, secure your sunglasses, leave the beer and plastic water bottles at home (alcoholic beverages are not permitted). Make sure to bring a reusable water bottle that you can clip to yourself or your tube.
---
5. Hang out at Howelsen Hill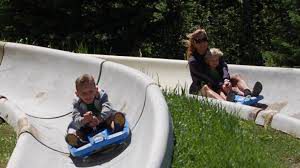 This goes hand in hand with hanging out downtown.  Just walk over the Ninth street footbridge and follow the Yampa River Core Trail to Howelsen Hill.  Here there are volleyball courts, tennis courts, baseball fields, grills, gazebos, and the Howler, Steamboat's alpine slide. You will also witness the Steamboat Springs Winter Sports Club practicing their ski jumping on the summer ramps (yep, summer ski jumping).  Howelsen Hill is the gateway to Emerald Mountain Trail System and home to many free Summer Concerts that locals call the "mandatory town meeting." During your Steamboat vacation, chances are there is a free concert going on somewhere and chances are, you have heard of the performer.


---
6. Visit Fish Creek Falls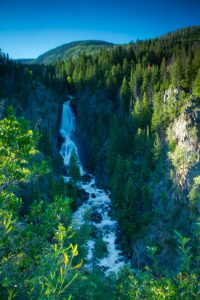 Just a short, 1/4 mile walk down a gravel path is the majestic 280 ft Fish Creek Falls.  In the Spring, witness the once soft powder blast over the falls like an oversized firehose as Fish Creek runs hard with snowmelt runoff.
You may catch professional kayakers putting in at the base of the falls and braving the class V rapids that stretch all the way back to town.  Watch the best kayakers, from all over the country, race down this section of Fish Creek at the annual Yampa River Fest.  You may choose to turn around and walk back to your car or continue on up rugged the Fish Creek Falls trail to another set of falls and eventually Long Lake.  It is a five-mile hike one way to Long Lake. $5 per vehicle parking fee required.


---
7. Go Out to Eat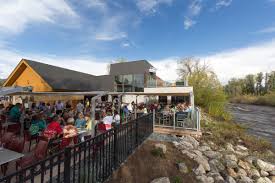 Steamboat's dining scene is second to none. From pizza places to asian fare to gastropubs, appetites of all sizes and ages can be satisfied by the selection of Steamboat's restaurants. In the summer, we recommend restaurants along Yampa Street with riverside seating. We also recommend hitting the places unique to Steamboat. We love the happy hour at Aurum which is right on the river and has a grassy space for kids to play.  Ready for a date night? Check out The Laundry, a renovated old laundromat that offers unique small plates and tasty cocktails. Finally, whatever you do, don't miss Fuzziwig's Candy Factory, your kids and significant other will never forgive you. Neither will your dentist.


---
8. Check out the Steamboat Pro Rodeo Series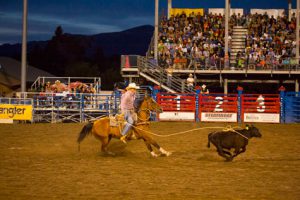 From mid June to early August, the weekly Pro Rodeo appears every Friday and Saturday night at Howelsen Hill Rodeo grounds with special rodeos around the 4th of July. Events include bull riding, bronc riding, cowgirl barrel racing, steer wrestling, and calf roping.  There are even kids events with a ram scramble and calf scramble.  Barbecue with sides, snacks, and a full bar are available along with a full bar.  In addition to the main events, there is also music and entertainment making the rodeo a can't-miss family stop on a Steamboat summer vacation.


---
9. Take the Family Horseback Riding
If you were motivated by the rodeo, become a cowboy or cowgirl yourself by enjoying a horseback ride through the country with the family.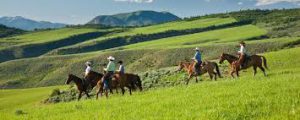 There are a number of ranches outside of Steamboat that offer horseback riding, they are Elk River Guest Ranch, Saddleback Ranch, Del's Triangle Three Ranch.  All three ranches are out in the countryside providing you with a different perspective of the land and a real western experience, not many things compare to riding through the lush green forests on horseback. Be sure to pack your camera, sunscreen, and sense of adventure. Keep your eyes peeled for wildlife!


---
10. Spend the Day on the Mountain
When you think of Steamboat resort you automatically think of skiing, but there is endless summer family fun that can be had right at the base. There are activities for kids barely able to walk to full-grown adults who still want to be kids.  Burgess Creek is diverted through the base area creating shallow pools for the littlest ones to splash and play in. The Coca-Cola adventure zone activities span from water walking, summer tubing, climbing wall, bungee trampoline, ropes course, and more!
Want to gain some elevation? Take a scenic gondola ride and look out over the green Yampa Valley and the Flattop Mountains.  Mountain bikes and even mountain bike guides can be rented to take you on a downhill thrill ride.  Ride the gondola up, bike back down, no pedaling required. 


---
LOOKING FOR SOME FAMILY FUN IN THE STEAMBOAT SUN?
Call us at Steamboat Lodging Company, we are your local boots on the ground lodging company providing top notch accommodations and assistance with all things Steamboat 970-457-4785