The annual Bud Light Rocks the Boat Free Concert Series lineup has been announced and Steamboat is in for another exciting, energy-filled music season. With seven top artists set to hit the Steamboat Stage in Gondola Square throughout Spring 2023, locals and visitors won't be able to resist the dance party at the base after a long day of skiing Steamboat's famous champagne powder. Beer tents, food trucks, and local vendors set up throughout the base. All concerts will begin at the ideal après ski time of approximately 3:30pm and be held on Saturdays.
Pro Tip: Grab the whole family and show up a little early to snag some of the best seats in the square on Timber and Torch's patio directly facing the stage!
For more information, check out Steamboat.com/concerts.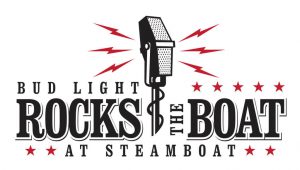 Fun Fact: Steamboat Resort is committed to doing their part to stay green and do their part. From now on, all concerts in Steamboat Square will be Zero Waste. All single-use cups and cans will be recycled to minimize the waste going into the landfill. BIG THANKS to the Yampa Valley Sustainability Council for helping make the spring concerts series sustainable!
SCHEDULE & BAND LISTING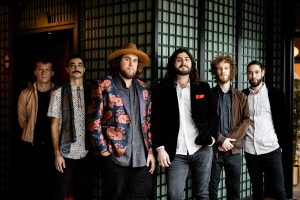 J & the Causeways – Saturday, March 11th 203
Kick off the first Bud Light Rocks the Boat free concert series of 2023 with J & the Causeways! At the core of soul music is a vibrant, embracing spirit, one aimed at connecting the dots of humanity that reside on both sides of the microphone.In a serendipitous sequence of events, J & The Causeways was formed at the legendary Maple Leaf Bar in New Orleans. A juggernaut soul/R&B ensemble, the group is filled with heavy backbeats and a soaring horn section, all swirling around the magnetic vocal stylings of Anderson.
Southern Avenue – Saturday, March 18th 2023
Memphis-based, GRAMMY®-nominated Southern Avenue inked their first record deal with legendary Stax Records in 2016. The first Memphis band signed to Stax in over 40 years, their self-titled debut was an immediate phenomenon, reaching #1 on iTunes' "Top Blues Albums" chart before being honored with the 2018 Blues Music Award for "Best Emerging Artist Album." 2019's KEEP ON proved an even greater success, debuting among the top 5 on Billboard's "Top Blues Albums" chart amidst worldwide critical acclaim, ultimately earning Southern Avenue their first GRAMMY® Award nomination, for "Best Contemporary Blues Album".
We are excited to announce that our concerts in Steamboat Square this spring will be Zero Waste. All single-use cups and cans will be recycled to minimize the waste going into the landfill. We thank the Yampa Valley Sustainability Council for helping us make our spring concerts series sustainable.
Cris Jacobs – Saturday, March 25th 2023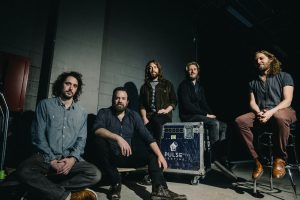 Whether alone with just the guitar and his voice or surrounded by a full band, Cris Jacobs enchants listeners with his inspired, poignant songwriting, virtuous guitar playing and soulfully transcendent voice. Artists across the board have discovered Jacobs' musicianship and supple versatility, resulting in an impressive variety of formats in which he has played over the last few years. After a decade, five records, and 200 shows a year as a principal songwriter and front man for beloved Baltimore-based band The Bridge from 2001-2011, Jacobs wasted no time continuing to write music of his own and exploring difference configurations for his craft. He released his debut solo album, Songs for Cats and Dogs, in 2012, and continued to perform relentlessly, both with his new band and as a solo artist. In doing so, he quickly garnered the admiration of a variety of predecessors and peers: rock legend Steve Winwood saw Jacobs perform in 2014 and soon invited him to open his national tour. The following year, Sturgill Simpson extended the same invitation. Never limited by genre, Jacobs and New Orleans heavyweight Ivan Neville recorded a collaborative album under the band name "Neville Jacobs", which released in 2017. As an adapting, evolving, versatile musician who has survived on his own merit, Jacobs continues to win over audiences of many tastes, as he brings his characteristic authenticity and soul to every set.
Joslyn & The Sweet Compression – Saturday, April 1st 2023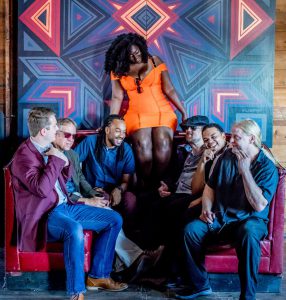 After cultivating her dynamic voice and performance skills in backup roles and stage plays, Joslyn Hampton teamed with her stepfather, Marty Charters (a touring guitarist and songwriter who has shared the stage with legends such as Junior Wells, Buddy Guy, and Van Morrison), to compose a captivating set of tunes and assemble an ace band. Joslyn & The Sweet Compression (Robert Frahm – guitar, Smith Donaldson – bass, Rashawn Fleming – drums, Trevin Little – saxophone, and Isaac Stephens – trumpet) combine to deliver a hook-filled mix of funk and soul on their self-titled debut album, released in 2019. A headlining favorite at regional clubs and music festivals, they are poised to engage fans across the country with widespread touring in 2023.
MarchFourth – Sunday, April 2nd 2023
MarchFourth is a joy-inducing force of entertainment. The colorful explosion of brassy funk, rock, and jazz is all about the groove. This larger-than-life group of musicians and acrobats tours the country year-round, bringing a spirit of celebration wherever they go. Fifteen MarchFourth musicians traveled from Portland, Oregon to New Orleans, Louisiana to record their fourth studio album, MAGIC NUMBER, self-released in September 2016. With Producer Ben Ellman (Galactic) and Engineer/Producer Mikael "Count" Eldridge (DJ Shadow, Tycho, Trombone Shorty) at the helm, the album is full of the captivating grooves and brassy swagger you'd expect from MarchFourth, plus a healthy dose of New Orleans magic, with guest appearance by Trombone Shorty, Stanton Moore (drums), and Matt Perrine (sousaphone).
The Main Squeeze – Saturday, April 8th 2023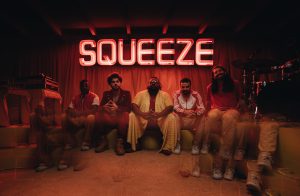 There seems to be an aura in the air when the five members of The Main Squeeze enter a room. A multicultural five-piece from Los Angeles, CA, The Main Squeeze have built a cult following in the States on the road – putting rubber to pavement and playing over 1,000 shows together over the past nine years. For a group of men with completely different backgrounds, tastes, religions, and opinions, there's already a spirit shared amongst them when they sit down to play together. The Main Squeeze, who have toured with the likes of George Clinton & The Parliament Funkadelic, Cheese Incident, Umphrey's McGee, and many more and are lauded across North America's live music circuit. They've graced hundreds of stages and played festivals including Bonnaroo, Electric Forest, Firefly and many more. Their breakout moment came during the pandemic, the band quickly developed a huge following on TikTok. They've since gained praise from NPR, Rolling Stone, Relix, and Wonderland as well as collaborated with artists such as 6LACK and Gallant and regularly hosted celebrity attended gigs at their fast becoming infamous "Squeeze House." The Main Squeeze are coming off their sixth album "To Be Determined" a body of work showcasing the unique chemistry the Los Angeles, CA based band have developed together over the years. The album is a stunning showcase into why they have become a touring phenomenon in the US and around the world, which has led to a passionate fan base – with some fans traveling the US and having seen up to 30 shows.
The Wailers – Sunday, April 9th 2023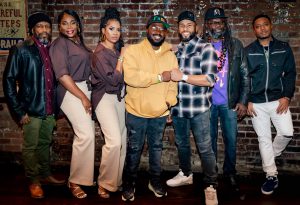 Not many bands can claim genuine legend status. The Wailers comfortably claim their place in essential music history. Their music was, and is, culture-defining: rebel hearts with brave souls embodying the spirit of 70s era-defining reggae.
The band play a special set featuring incredible cuts from Bob Marley's formidable back catalogue along with a string of their greatest, classic hits. The Wailers are giving you a chance to be part of the legacy. Aston Barrett Jr, himself reggae royalty as son of the irrepressible 'Familyman', carries the flame for The Wailers in a show that is simply not to be missed.
For more info about Steamboat Springs, CO check out these other great resources: