Wondering where to take your kiddos skiing at Steamboat Resort? Steamboat has always been one of Colorado's premier family-friendly ski resorts, and we have compiled the top eight runs that are perfect for youngsters just starting out. Read on to learn about our favorite runs, different types of beginner terrain, and information about kids ski school.
Here are three handy resources to have on hand when navigating around Steamboat Resort:
INTERACTIVE TRAIL AND GROOMING MAP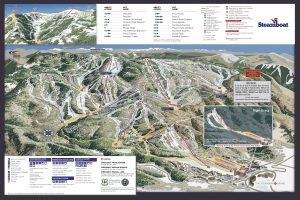 Top 8 Ski Runs for Kids at Steamboat Resort
Tomahawk (Blue 🟦 )

Tomahawk tops the list due to it's fun rollers and easy pitch. Considered by many to be mislabeled, and should be Green 🟢, this run is great for beginners who want test the waters, and try a Blue 🟦. The initial pitch is a bit steep, so take Sundial for an easier and green way to access the lower portion of Tomahawk. With rolling hills, a mellow grade, excellent width and views for days, Tomahawk is sure to please everyone in the family!

Why Not (Green 🟢)

Why Not is the easiest (and longest) way down from the top of the gondola at Thunderhead Lodge. Why Not provides 3½ miles of gorgeous sweeping Yampa Valley views, winds through Aspen forests, and also provides an education on wildlife native to Steamboat.

Local's Tip: Look for the different flora & fauna themed signs along the way and learn a little bit about the wild animals that call Steamboat Resort home!

Rough Rider Basin (Green 🟢)

Rough Rider Basin is a hidden gem within Steamboat Resort. The easiest way to find this area is to take Christy Lift all the way to the top, then follow Boulevard (Green 🟢) down to Rough Rider Basin. This area is equipped with Western-Style saloons, easy jumps, and little building perfect to ski through. This area also hosts the Rough Rider Poma, perfect for the kiddos to practice Poma riding skills!

Swinger (Green 🟢)

Swinger is an easy Green 🟢 just below Rough Rider Basin. This mellow run will lead you back down to the Resort's base area. It is a great place to teach young kids how to carve turns with the perfect steepness. Since this area is not a main thoroughfare to the base area, there is a lack of other skiers and riders, which is perfect for learning.

Quickdraw (Blue 🟦)

Quickdraw is a great run to try after your child has mastered Tomahawk. It has steeper terrain at the top, but flows into a mellow gully towards the bottom. If you're ready to try some trees, look for the Sunshine Olympian Trail to the right, tucked away in the trees.

Broadway (Green 🟢)

Broadway is an easy green that takes you from Rendezvous Lodge & South Peak Lift area to the base of Elkhead and Sundown lifts. At the top, there are fun little jumps to the skier's left that kids love to play and practice on.

Local's Tip: Get your camera ready! About midway down the run, there is an overlook viewpoint, perfect for a family photo!

Moonlight (Blue 🟦)

Moonlight takes you from Rainbow Run back down to Elkhead and Sundown lifts. The top portion of this run provides a little more steepness with nice width (always a good combo for younger kids) and turns into a flowing gully towards the bottom with a fun lip on the skier's right (almost a natural quarter pipe!) fun for the older or more experienced kids (and kids at heart).

Baby Powder (Blue 🟦)

Baby Powder is an un-groomed short blue run just off to the left of Tomahawk on the Sunny Side of the resort. This run is great to practice powder turns on and takes you through some easy trees including a large tree – big enough to ski through! Some added natural wind lips act as beginner jumps and allow kiddos to play and practice mellow un-groomed terrain.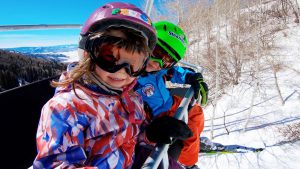 💡 Don't Forget! The magic carpet areas near the base area are perfect for first-time skiers and beginners whom are not yet ready for the traditional ski lifts. Also, if your munchkins are new to the sport, you may want to consider enrolling them in ski school. Here is the latest information about Steamboat's top-rated ski school:
SKIERS AGES 12 MONTHS TO 4 YEARS
The Steamboat Happy Camp programs are second to none. A one-stop-shop for families with small children, all Happy Camp lesson products include lift access, lunch, lesson instruction and equipment rental option. The goal os Happy Camp is to cheer and inspire & encourage and entertain! This is a place for FUN! The trained instructors become your child's biggest fan while teaching the basics of the sport. The program is designed around taking care of children in a safe, nurturing environment, in an age-appropriate setting.
SKIERS & SNOWBOARDERS AGES 5-12 YEARS
Built just for kids – with parents in mind– Kids camps and lessons are Steamboat's hub for all things outdoors. The goal is to be the place where your child's earliest mountain memories are made and where pure fun is had, day-after-day and year-after-year. Welcoming cowgirls and cowboys ages 5-12 years old, kids camps and lessons and follow the simple progression of "first comes passion, then comes skills." Lessons are from 9:00am to 3:00pm and lunch is provided.
SKIERS & SNOWBOARDERS AGES 13-17 YEARS
Steamboat teen group lessons are tailored specifically to meet the educational needs of the age and skill level. Your teen will be matched with others of the same ability level-appropriate groups and the right instructor to maximize the time on snow. Lunch is provided.
Prices, products and procedures are subject to change at any time without notice. Advance purchase discount only applicable if made at least 7 days prior to arrival. 
Peak Season dates: 
Dec. 17, 2021 – Jan. 2, 2022; Jan 14 – 17, 2022; and Feb. 18 – Mar. 22, 2022
*Please Note: These prices are valid as of the '21/'22 season.
PRODUCT
AGES
LESSON PRICING
PEAK SEASON PRICING
Happy Camp Childcare
12 months – 2.5 years
Advanced: $159
Window: $169
Advanced: $239
Window: $249
Happy Camp Lesson
2.5 – 4 years
Advanced: $239
Window: $249
Advanced: $299
Window: $319
Kids Camp Lesson
5 – 12 years
Advanced: $239
Window: $249
Advanced: $299
Window: $319
Teen Lesson
13 – 17 years
Advanced: $239
Window: $249
Advanced: $299
Window: $319
For more info about Steamboat Springs, CO check out these other great resources: