Steamboat Springs is a mecca for fly fisherman. Anglers travel year-round from near & far to enjoy the fishing opportunities that can be found in the Yampa Valley. 
From lakes to rivers to small mountain creeks, the fish are abundant and hungry.  Whether you are an experienced flyfisher looking to explore new water, or a novice just trying a fun new activity, there is a fishing opportunity for everyone. Below are 5 simple ways you can hit the water during your stay here.
For more information check out The Best Fishing in Steamboat Springs, CO.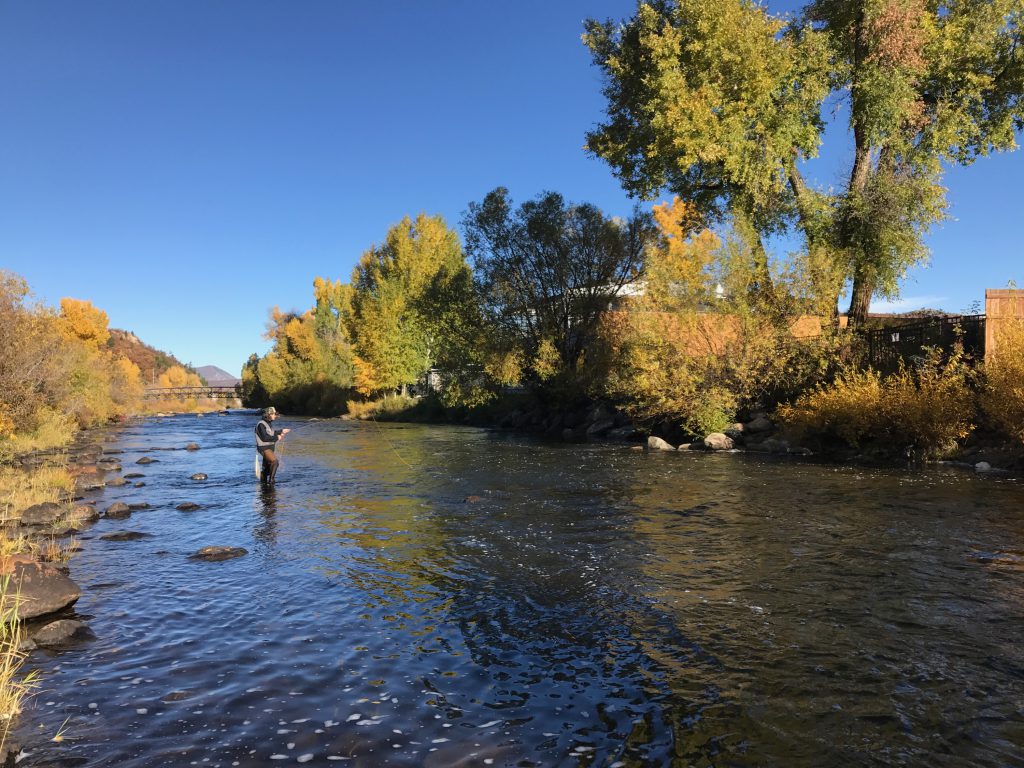 1. Visit a State Park
There are quite a few state parks within an hour drive of downtown Steamboat, and all of them provide excellent and diverse fishing opportunities.
Stagecoach State Park
This is the closest park to Steamboat and is an incredible fishery!  The reservoir is very fishable from shore, but the marina also rents boats for those looking to explore more water.  In the reservoir, you can catch rainbow trout and northern pike.  The state record pike was caught here, so you have a chance at a trophy!   The Tailwater is a 0.7 mile stretch of catch-and-release only river below the damn.   This section has become the premiere stretch of the Yampa to catch rainbow, brown, and brook trout.  Map & directions for Stagecoach State Park.
Steamboat Lake & Pearl Lake State Park
These two lakes are about 45 minutes to the north of Steamboat.  Both offer excellent opportunities at catching good sized trout, and are well worth the drive out of town!  In addition, Pearl Lake has a population of arctic grayling, which is a rare and hard-fighting sportfish. The shore fishing is excellent but you can take boats on both lakes (Pearl is completely wakeless).  Map & directions for Pearl Lake State Park.
Yampa River State Park
This park provides fly fisherman the chance to catch a variety of species on the western stretch of the Yampa.  In this part of the river anglers can find trout, northern pike, smallmouth bass, and even the occasional catfish. Forty-five minutes west of Steamboat, this park gives fly fishers the chance to catch great fish in a river setting.   Map & directions for Yampa River State Park.
2. Check Out a State Wildlife Area
For a more intimate nature experience, fly fishers can explore several state wildlife areas around Steamboat. Unlike state parks, these are free to access and tend to be a little less crowded.
Sarvis Creek State Wildlife Area
This wildlife area offers excellent trout fishing on the upper Yampa river as well as Sarvis Creek, and is only 25 minutes from town.  Here anglers can find large populations of brown, rainbow, and brook trout.  Map & directions.
Christina State Wildlife Area
This is the easiest and most convenient area to try your luck on the beautiful Elk River.  Only 10 minutes from Steamboat Springs, anglers can find great fishing for rainbow trout and the occasional brown.  Map & directions.
Chuck Lewis State Wildlife Area
The closest wildlife area to Steamboat, Chuck Lewis offers a large stretch of the Yampa to anglers looking for that trophy trout. The browns and rainbows are big and abundant here, and it can be reached with only a 5 minute drive to the south out of town. Map & directions.
3. Fish Right in Town!
For the most convenient fly fishing Steamboat has to offer, try the miles of catch-and-release water on the Yampa river that run right through the heart of town.  Anglers hesitate to cast a line the middle of a town for fear that the fishing might not be any good with so many people around, but nothing could be farther from the truth in Steamboat! The town stretch has excellent trout and pike fishing.  Just be aware that you will likely be sharing the water with tubers, rafters, and kayakers!
4. Go For a Hike
Steamboat and its surrounding areas have hundreds of miles of trails, many of which follow along mountain streams and eventually lead to lakes.  For the fly fisher that doesn't mind a hike, these lakes and streams can provide incredible opportunities to catch brook trout and native cutthroat trout in crystal clear mountain waters. This is also the best chance to escape crowds in the busy seasons for those anglers who seek solitude!
5. Set Up a Guided Trip
Steamboat is home to many reputable guiding companies, all of whom can provided valuable insight and lessons on how to fish successfully in this region.  For novice anglers or those unfamiliar with the area, these guided trips can make all the difference for a successful day on the water. The guiding companies can take trips out on any of the public water listed above, as well as a large amount of private water that in inaccessible without a guide.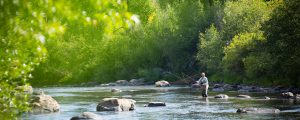 FISHING OUTFITTERS DIRECTORY
Ready for your fishing getaway to Steamboat?  Get hooked up with one of our local shops in town if you need to rent equipment or would like to take a unique fishing excursion with a knowledgeable local guide.
35 Fifth St.
Steamboat Springs, CO
80487
744 Lincoln Ave.
Steamboat Springs, CO
80487
55675 County Road 62
Clark, CO
80428
1421 E. Park Ave.
Kremmling, CO
80459