Springtime means one thing in Steamboat Springs: the start of Fishing Season! Both locals and tourists alike flock to the Mighty Yampa River for premier fishing in Colorado. Anglers enjoy several miles of public access in town casting for both rainbow and brown trout. The river offers a peaceful setting with stunning views, and a moment of tranquility for those looking to get away from it all.
In the last twenty-five years, the City of Steamboat Springs (along with fly-fishing clubs, local citizens, and Colorado Parks & Wildlife) have done a massive habitat improvement project all along the Yampa River. Due to their incredible and sustained efforts over the years, this region has been transformed into one of the greatest "urban" fisheries in Colorado.
For those looking to get off the beaten path, there are also some options just outside of the main town area. Still close to Steamboat, these locations offer a quieter and more secluded fly fishing experience more so than the hustle-bustle of the town stretch. Read on to learn more about our favorite places both in and out of town to cast a line, and our favorite retailers to get you set up for your fishing excursion.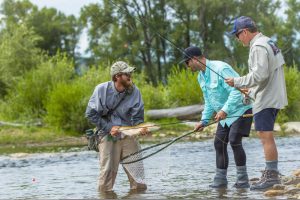 THE MIGHTY YAMPA
One of the most unique attributes of Steamboat Springs is the fact that you can catch a world-class rainbow or brown trout right in the heart of downtown. Just grab a rod, walk to the river, and start fishing. It's that easy! No maps, access fees (fishing license is required), private guides or long drives required. Of course, you can always hire a guide—and we've got some famous ones here in Steamboat—but if a quick fishing fix is on your Steamboat bucket list, then just mosey on down to the river, find a hole, and start casting.
Local's Tip: If you're looking for fishing glory, fish the holes in the river directly behind Yampa Avenue between Fifth and Ninth streets. This is where diners gather on the riverside patios of Sunpies, Aurum, E3 Chophouse, and others. But ANGLER BEWARE as you better know what you're doing! The close proximity to the restaurants provides a perfect view for hoots and hollers from the peanut gallery.
THE ELK RIVER
The Elk River is a major tributary of the Yampa River and offers a variety of fishing opportunities from the roadside pockets of public water along Routt County Road 129. Once back towards Seedhouse Road, you'll also find some gems of wild, untamed stretches of river among pine trees and narrow gorges. This stretch of Elk River is a favorite for Steamboat locals because of its easy access, gorgeous scenery, and world-class fishing.
Neat Feat: For a quick taste, try the Christina State Wildlife Area just 7 miles north of Steamboat Springs along RCR 129.
THE TAILWATERS
Below the dam at Stagecoach Reservoir, the Yampa River flows through a stunningly beautiful canyon where huge trout congregate in large pools and shallow riffles. This is the major leagues of fly fishing here in the Steamboat area, with finicky trout that like small scuds, tiny midges, and other delicate bugs. But if you can find the right recipe, you're sure to catch the fish of a lifetime.
PRIVATE WATERS
If you're looking for a truly unique fly fishing experience, hire one of the outstanding professional fly fishing guides through Steamboat Flyfisher or Straightline Sports. Through hiring a a guide, anglers are able to access some of the most outstanding private waters in the region. Whether it's a guided float trip through the "hog heaven" of the lower Yampa between Steamboat and Milner, or a trip upstream to the ranches and ponds along the Elk River, these outfitters have dozens of unique private water options that are off limits to the public, and make your Steamboat vacation all the more special.
ALPINE LAKES AND STREAMS
Ready to do a little legwork? Some of the most phenomenal fishing locations are only accessible through chatting with locals and word of mouth. These cold, clear streams require a little effort to get to, but it's worth it. You'll need to do your research, because these waters aren't in any guide book, and aren't often fished by the public. Try Big Creek, Mad Creek, King Solomon Creek, or Trout Creek for isolated small stream fishing with plenty of small, wild, and feisty trout. Happy Hunting!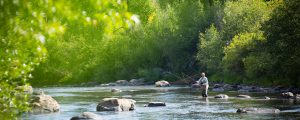 FISHING OUTFITTERS DIRECTORY
Ready for your fishing getaway to Steamboat?  Get hooked up with one of our local shops in town if you need to rent equipment or would like to take a unique fishing excursion with a knowledgeable local guide.
PO Box 723
Yampa, CO
80483
35 Fifth St.
Steamboat Springs, CO
80487
744 Lincoln Ave.
Steamboat Springs, CO
80487
55675 County Road 62
Clark, CO
80428
1421 E. Park Ave.
Kremmling, CO
80459