The days are getting shorter, kids are returning to school, and a slower more tranquil atmosphere is returning to Steamboat Springs. Cooler temperatures, fewer crowds, and the golden hue of thousands of aspen groves make Steamboat the perfect destination for autumn. It is always exciting to come to the mountains, but autumn is sometimes the forgotten time of year. But if you take a closer look, you can see why the fall is the local's best kept secret and absolute favorite time of year.
With so many things to look forward to: the changing leaves, some of Steamboat's favorite community events, holiday celebrations, in addition to seasonal foods & drinks, this is the best kept secret in Colorado. Here are 3 reasons worthy of making a trip to Steamboat this fall, and checking out what everyone is talking about.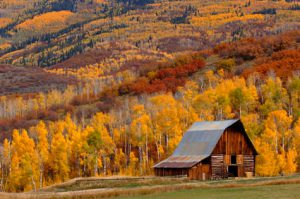 1. Colorful Changes
Every living thing lights up in fall, and Steamboat is no different! Experiencing Colorado's breathtaking fall colors is an obligatory seasonal activity for locals. The peak of leaf peeping season begins in late August and into September, and continues through October. The color change works its way from low to higher elevations as the seasons begin to change. The best times to view are the last two weeks of September and early October. This even includes the ferns and the undergrowth that will paint the trails a shimmering yellow and gold. The Cottonwood and Aspen trees turn a fiery yellow with hints of red and orange, it is truly awe-inspiring to be amongst this beauty. When fall is in full swing, the vibrant colors can be viewed from virtually anywhere you are in Yampa Valley. But, if you're looking for a fall drive for some leaf peeping, take a peek below for our suggestions on where to go.
Scenic Fall Drives:
Buffalo Pass Road – A dirt road that connects Steamboat and highway 14 near Walden on the other side. The first ten miles of road winds up through lush aspen forests and sweeping meadows, as the road climbs up out of the canopy, turn around and look back to catch stunning fall views of Steamboat. This road is only maintained in the winter up to Dry Lake Campground and beyond that point, it is rutted and rocky in spots. Clearance of a sport utility vehicle or higher is required.


Rabbit Ears Pass – As you descend down Rabbits Pass on US Highway 40 from the east, breathtaking views of the Yampa Valley appear around each bend. There are plenty of pull-offs to get out and take pictures. Make it an all-day adventure by combining the Buffalo Pass and Rabbit Ears pass into a loop. Start on Buffalo Pass and take to CR 14.  Follow CR 14  south until you get to US 40, turn right and you will be on the east side of Rabbit Ears Pass. Drive west back down into Steamboat.


Strawberry Park Road – For a shorter but equally as pretty of a  drive, take Strawberry Park Road (CR 36) until it ends. 

Local's Tip: The Strawberry Park Road ends at Strawberry Park Hot Springs! Take a dip in some of the most gorgeous natural hot springs in Colorado!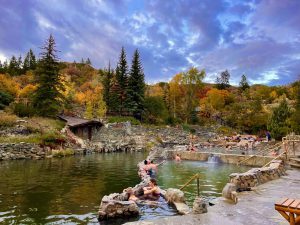 2. Fall Events
Steamboat Food & Wine Festival – Revel in delight at The Steamboat Food & Wine Festival this fall in Steamboat Springs. This popular event will be held September 29th – October 2nd. With gourmet food tastings, wine tastings, world-renowned chefs & world-class offerings, this event is a no-miss while visiting Steamboat Springs. 

Local's Tip: Read more about the Steamboat Food & Wine Festival HERE!


Steamboat Oktoberwest – Stroll through downtown Steamboat tasting hearty beer & food on September 16th, 2023. Enjoy the famous beef cookoff where local chefs compete for the title of the best brisket in town – to be voted on by the participants! 45 craft brewers from around the Rocky Mountains will be in attendance.

Local's Tip: Read more about the Steamboat Springs Oktoberwest HERE!


Steamboat Restaurant Week – This annual event is the perfect opportunity for food lovers to sample some of Steamboat's finest local offerings. "Satisfying a Mountain of Appetites" – the best restaurants in town will be offering select menus and specials for all meals: October 7th – October 15th. 


Read more about Steamboat's Calendar of Events HERE!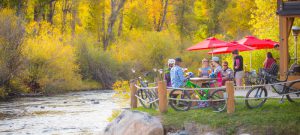 3. Wide Open Trails
Getting out and about during the autumn season is a favorite for both tourists and locals alike. The cooler temps and empty trails make exporing even that much more enjoyable.  Here are some hiking & biking options to get out in the wilderness!
Buffalo Pass – A moderate trail that starts at the top of the popular Spring Creek Trail at Dry Lake Campground and winds its way up through meadows and underneath aspen canopies.  At the top, you can choose to go back down the way you came up, take the Buffalo Pass Road Down, ride the aggressive BTR bike trail down (bike and downhill only) or continue on up Buffalo Pass Road.
Yampa River Core Trail – For a more relaxed and less committing endeavor, stroll along the Yampa River Core trail that spans seven miles along the river and through downtown. Be sure to stop at the Botanical Gardens or time your walk up to end up at happy hour at Mountain Tap Brewery on Yampa Street. 

Local's Tip: Look up, out, & down! Your chances of seeing a moose, elk, or cute mule deer increase greatly in the fall, and seeing wildlife is a huge bonus when in exploring the great outdoors. Also, the rivers are teeming with fish this time of year and the hawks and bald eagles are extremely active.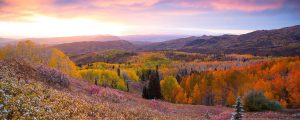 For more info about Steamboat Springs, CO check out these other great resources: