Springtime in a mountain town is a lot like a budding new relationship; it can be hot one day and cold the next, things are bound to get a little messy, and there will be days that leave you feeling completely uncertain on what to do. But with all of that unpredictability also comes the overwhelming feeling of excitement as you begin to imagine the possibilities of all of the fresh opportunities ahead.  Steamboat's spring season is one of the most underrated times of the year if you're looking for an unassumingly vibrant period full of relaxed and lively activities alike. Even the rainiest (or snowiest) of spring days has something to offer, and locals relish in the ability to adjust their pace of life with the temperamental weather shifts. No matter what the fickle mountain climate brings, we've put together a locals' list of activities to help you navigate your perfect spring day in Steamboat.
Start Your Day with a Cup and a Cruise
Welcome the day with a sweet treat and a hot cup of coffee at Mountain Brew in downtown Steamboat. They have everything from toasty breakfast sammies, quiches, smoothies and decadent cupcakes, plus one of the best cups of coffee in town. After savoring a tasty breakfast, take your coffee down to the Yampa River for a casual stroll on the Yampa River Core Trail. This walk along Steamboat's cherished Yampa River is particularly pleasant early in the day when the heated morning sun hits the cold spring water and oftentimes creates a steaming effect. Make sure to check out the kayakers and extreme paddle boarders trying to surf the Yampa.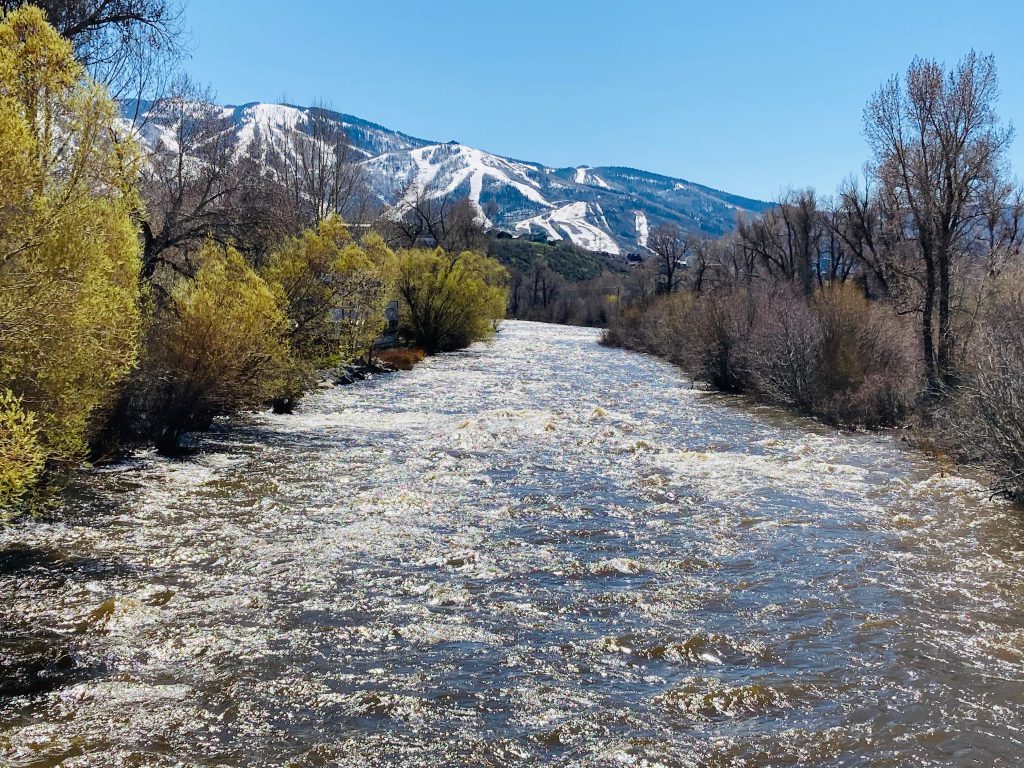 For a Rainy Day…
If the weather is particularly chilly or wet in the morning, head on into cozy Winona's.  Steamboat's sweet and homey downtown café and restaurant. While Winona's can be a snug fit due to its popularity and limited seating, you won't find a warmer establishment or a bigger cinnamon roll anywhere in town! Grab a newspaper, request a table in the window and start your rainy day the hometown way.
For the Extra-Ambitious…
If you're a motivated morning person and looking for a bucket list item to check off while you're in town, consider taking a hot air balloon ride with Wild West Balloon Adventures. Bud the Pilot will not only show you the best views of the Steamboat Valley, the Flat Top Mountains and Hahn's Peak, but he'll also keep you entertained with his endless knowledge on the history of flying and his countless anecdotes.  All morning flights include a continental breakfast, a champagne ceremony post-flight and a personalized flight certificate. The combination of adrenaline and beauty will leave you flying high with energy!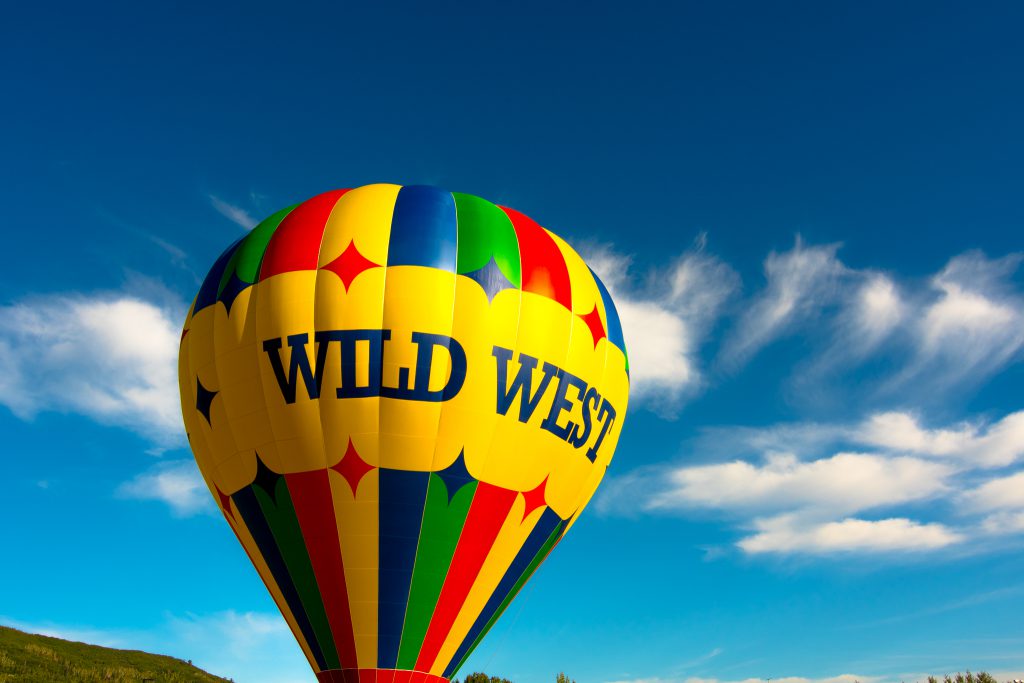 The Sun is Up
After you've had your morning Joe and your legs have awoken for the day, delight in the rising spring temps with a hike at one of Steamboat's premier outdoor areas. Perhaps Steamboat's most popular hike for a reason, take a short drive north of town to the majestic Fish Creek Falls hiking trail. While the hike to the falls is a mellow half-mile path to the falls, the trail continues across the historic bridge and narrows into a singletrack trail through vast aspen groves. Whether you turn back at the falls or choose to wander on, you'll find incredible natural views in every direction.
Closer to town, take a leisurely stroll through the Yampa River Botanic Park . A six-acre plot consisting of over 40 gardens, multiple ponds, colorful berms and stone paths throughout, this is one of the most aesthetic areas to amble around town. For a more challenging walk, take a hike up the established Blackmere Trail to the top of the quarry on the west side of Steamboat. Once you reach the top, you will be rewarded with one of the best overlook points of the entire town and mountain.
For a Rainy Day…
Head to the Howelsen Ice Arena and spend an hour or two testing your skating skills! The rink has open skate hours, affordable rentals and skating "training wheels" for the very beginner. For an extra dose of fun, take part in a Bumper-Cars-On-Ice session. These full-sized, circular bumper boats light up and cruise along the ice between bumps from your friends and family.
For the Extra-Ambitious…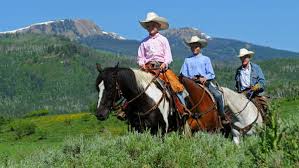 Book a guided horseback ride through stunning aspen trees on one of the most historic dude ranches in the Steamboat Valley. Del's Triangle 3 Ranch is located about 25 minutes north of town and the drive allows you to see the countryside, the Elk River, open ranch lands and the northern mountains that many visitors to Steamboat never get to experience. The horseback rides vary in length, but you can be assured that your guide will be a bona fide cowboy or cowgirl who will teach you all about the local wildlife, surrounding trees, and nearby mountaintops.
Take a Lunch Break
For the Veg-Heads…
If you thought the ranching town of Steamboat wouldn't have a lot of vegan and vegetarian-friendly options, think again! Rootz not only offers an entirely vegetarian menu, but it also has plenty of gluten-free sandwiches, thick organic smoothies, homemade fresh juices and morning acai bowls. Sit down and enjoy your meal surrounded by fun and funky artwork, jewelry, and trinkets.
The city of Steamboat is not a metropolis, but the rising food scene has put this little mountain town on the Colorado map in terms of eatery options. For a relatively quick sit-down option, pop into Backcountry Deli for one of the heartiest, freshest sandwiches you've tasted. Their wholesome ingredients, healthy portions, and artisan bread always make for a filling and delectable mid-day meal.
For a Longer Lunch…
Walk over to the Creekside Café & Grill and put your name in for a table on the patio along the creek on a nice spring day. Even if it's cold or wet, the indoor seating is to be desired with Creekside's all-brick walls and trendy-yet-casual atmosphere. Peruse the menu while you sip on a mid-day mimosa or another drink of choice from their daytime cocktail menu. Finally, prepare to be wowed with any of the decorative and savory dishes they have to offer.
Bonus Lunch – Have a Picnic!
If it's a particularly nice and sunny day, take advantage of the many benches, gazebos and large rocks right along the Yampa River. Swing into Steamboat Meat & Seafood Deli and grab one of their pre-made wrapped sandwiches to go. Try a few of their pre-packaged deli sides and request a few disposable utensils for the road. Right across the street is the Yampa River Core Trail and you're bound to find a good outdoor spot to sit no matter which direction you decide to go!
The Afternoon Awaits…
No matter where you grab lunch, let your food digest as you take a walking tour of downtown's favorite little shops. A great place to start your mini Steamboat circuit is to check out all of the local artists' work and crafts at Ohana. Featuring everything from locally-printed apparel and trucker hats, jewelry, home goods, leather items, rugs, cards and a variety of other fun items, you'll have a hard time leaving Ohana without an authentic Steamboat souvenir with an artsy twist.
Next, walk two blocks west on Lincoln Ave and see what all of those yellow FM Light & Sons signs are about! Over 100 years in business, FM Light & Sons will take you back in time to the Old West era with its hundreds of genuine cowboy boots and hats, and Western apparel and goods. If you're on a budget but you still want to leave with a taste of The West, FM is known for its souvenir cowboy hats under $10.
Lastly, don't miss Steamboat's favorite bookstore across the street, Off the Beaten Path. Feel free to enjoy a coffee or beverage from the store's coffee shop while you peruse the shelves of new and used books. The local nature section is especially impressive; in fact, many folks pick up a book on the surrounding flora and fauna before they head out on hikes for identification!
For a Rainy Day…
Visit the Old Town Hot Springs right in the heart of downtown to take a hot soak in the cool rain. The newly-renovated springs not only feature multiple pools of varying degrees, but also a full-length lap-pool, an indoor fitness center, a yoga and dance studio, private saunas, fitness classes, and a snack and beverage bar. Taking part in even half of the activities offered here will surely be enough time to let any afternoon storms pass by.
For the Extra-Ambitious…
Hit the links at one of Steamboat's premier golf courses. Rollingstone Ranch Golf Course is located near the mountain and has incredible views of the surrounding ridges and peaks. Or head a few miles east of town to Haymaker Golf Course, which features a more wide-open course with flat-to-rolling greens. Because you're outside of city limits here, you'll also get excellent views of the mountain sans snow!  For the budget-conscious, drive a few miles west of town to the Steamboat Golf Club. While it's more low-key and only has 9 holes, the rates are great, the carts are cheap, and the cozy clubhouse is a fun spot to grab a beer or some light bar food after a quick spring nine.
The Happiest Hour
As active and as healthy as Steamboat tends to be, the locals aren't afraid to enjoy a fun and leisurely happy hour after an energetic spring day. If you're looking to keep the outdoor vibes going, grab a drink on Aurum Food & Wine's outdoor patio overlooking the Yampa River or restore your energy with a giant margarita on Salt & Lime's rooftop deck. Both include excellent drink specials and affordable happy hour bites.
For the brewery aficionados, try one of Mountain Tap's home brews while sampling a few personal brick oven pizzas. You'll particularly enjoy the open atmosphere with both indoor and outdoor seating on either side of the floor-to-ceiling garage door walls. Lastly, the cocktail lovers are never disappointed at The Laundry. Featuring long lists of unique cocktails at modest happy hour prices, there's no liquor off-limits here. The Laundry's happy hour is also the best time to try one of their typically upscale small plates and a glass of one of their dozens of bottles of wine. The all-brick atmosphere and chic lighting is an added bonus to the experience.
For a Rainy Day…
Head to the west side of town and sip on a pint at Storm Peak Brewing while you play one of the countless card games or board games available to patrons. This brewery is also particularly kid-friendly & pet-friendly, so don't be timid about bringing everyone along.
For the Extra-Ambitious…
Not ready for the activities to end? Head on over to Love Climbing Adventures, Steamboat's only indoor rock climbing gym. With affordable climbing gear rentals and both bouldering and sport routes to choose from, you'll easily spend an hour or two ascending walls, laughing with friends and ending happy hour on a "high" note.
Do the Night Right
Dining options aren't scarce in Steamboat and the variety is tough to beat in a small town. But if you're looking for a good middle-of-the-road eatery in terms of atmosphere, prices, selection, and service, Mambo Italiano always delivers. Be sure to request a table on their outdoor patio if spring weather permits. Indoors or out, the Italian-style, bulb-strand lighting creates an intimate, yet casual space amongst the surrounding brick walls.
For a nice night out, Harwigs Fine Dining & Wine is the place to go. Harwigs not only boasts excellent seasonal, locally sourced French dishes with a modern twist, but they also advertise one of the longest and finest lists of wine in the area. For a more casual bite to eat, one of the most popular restaurants during the spring season is Back Door Grill. While the food is traditional American fare, they do what they do well and they recently made TripAdvisor's Top 10 Best Burgers in the US list. They also have some of the best "mud season" specials on drinks and food alike.
For a Rainy Day…
Combine your food with fun at Steamboat's newly-renovated Snow Bowl. Browse the updated menu from chef Pete List, a well-known culinary artist in Steamboat who specializes in using fresh, local, organic ingredients in most of his dishes. Let the unusually tasteful bowling alley cuisine surprise you while you knock down some pins with your friends and family.
For the Extra-Ambitious…
Visitors come from far and wide just to experience Steamboat's Strawberry Park Hot Springs. A natural spring in the middle of the woods, these hot springs are ranked among the top in the world. With natural pools of varying degrees, rock walls and sandy bottoms, you'll be able to soak amongst the best that nature has to offer. If you make the trek at night, be sure to leave any kiddos at home; after dark, the Strawberry Park Hot Springs become clothing optional and only adults are allowed.
No matter what the ever-changing spring conditions look like, you won't be discouraged with the potential fun and relaxation to be had during springtime in Steamboat. Come take advantage of this season's lower rates on lodging, food, drinks and entertainment, and enjoy saving money with very little to no crowds in our otherwise busy little mountain town. Grab your family, wrangle your friends, and come experience the season before Steamboat's spectacular spring secret gets out!