Want to know how to be the Hostess With The Mostess on your trip to Steamboat Springs this year? The holidays are right around the corner, and whether you are the type to go all out or keep it simple, there are always ways to make your holidays a bit easier when traveling.
Whether you're planning a friendly gathering, family vacay, Thanksgiving feast, Hanukkah, New Years bash, Christmas party, or in-between, deciding on a few loose themes ahead of time can help us break free from last-minute planning. As a host, each of us deserves to enjoy every moment as much as possible, too. Here are some tips & tricks to maximize your planning now to enjoy stress-free moments later.
Local's Tip: Want to make your visit to Steamboat all the easier? Try WildPlum grocery & alcohol delivery service! Learn more HERE!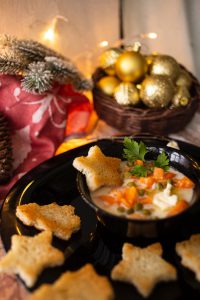 Keep A Few Ideas In Your Back Pocket
Here are a few ideas for gatherings while on vacation here in Steamboat.
Casual Post-Skiing Evening With Friends: Throw together an easy party with snack boards and wine or cocktails after a long day on the slopes. A few candles and a party game or two, and you're all set to host an evening to remember!
In-House Dinner: Looking to stay in over going out? If your group is on a budget, consider an elevated pizza party; rustic pizzas and perfect wine pairings are always a crowd-pleaser. If your budget is more flexible, consider employing a local caterer or private chef – You can see a list of our favorite local chefs HERE.
Afternoon With Kids: Try a themed cookie decorating party that kids will enjoy, and light drink options the adults will love, such as wine spritzers, hard seltzers, or themed mimosas.
Local's Tip: Staying in Downtown Steamboat? Laura the Butcher at MEATBAR has all the best fixings for cheese plates & charcuterie boards!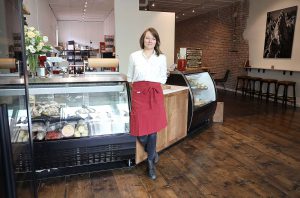 Create A Checklist
Make your life all the easier by creating a checklist on a smartphone that can be easily referenced. Here are a few ideas of what to include:
Ambience: Candles, holiday themed decor, perhaps some orange & cinnamon sticks simmering on the stove? Fancy!
Activities: Games and activities can liven up any party – Make sure to have ideas for both the adults and children.
Stash Delightful Surprises In The Pantry
When arriving in Steamboat during the holidays, it's always a good idea to stock your pantry. A few items to make sure to grab when getting settled into your holiday house rental are:
Gourmet jams & jellies
Olive tapenades
Nuts
Compotes or dried fruits
Rustic crackers or breadsticks
Chocolate covered pomegranate morsels
Local's Tip: Staying mountainside? WildPlum Grocer has an amazing selection of wine, spirits, snacks, and stuff for the kids!

Stock Up On Libations
No event or holiday is complete without a delicious drink! Deciding on a strategic drink menu helps to keep things stress-free. Wine is always a crowd-pleaser, but make-ahead cocktails can be a great option and take some of the pressure off those indecisive guests and family members. Here are some of our favorites to give you some ideas:
Wine
For white wine, a gorgeous Chardonnay that everyone will love, such as the Steamboat Winery Slopeside White Chardonnay.
For red wine lovers, a bottle of Elk Cove Five Mountain Pinot Noir or Steamboat Winery Syrah.
Make-ahead cocktail
Wine is wonderful, but to mix things up, try this recipe courtesy of WildPlum for Scotchy Boulevardiers. It's wonderfully savory, dry, and peppery – and the best part is, this recipe can be made ahead of time to cut down on last-minute stress!
Scotchy Boulevardiers For a Crowd
Active prep time: 15 minutes, Total time: 2 hours, 15 minutes, Yield: Serves 8
Ingredients
1 cup whiskey (suggestion: Leopold Bros. Whiskey)
3/4 cup Campari
3/4 cup sweet vermouth (suggestion: Carpano Antica)
1/2 cup scotch (suggestion: Macallan 12 Year Scotch)
8 orange twists
Preparation
Combine whiskey, Campari, vermouth, scotch, and 1/2 cup plus 1 tbsp. water in a quart-size jar. Seal and freeze for at least 2 hours and up to 2 weeks.
To serve, gently turn the jar to mix. Place ice in a rocks glass and pour in the cocktail. Squeeze oils from your orange twists over the glass, then rub the peel around the rim and garnish the glass with a peel. Enjoy!
Have Fun & Enjoy
It can be easy to get lost in the stress of planning a holiday vacation and family gathering, but remember – plans typically never completely go according to plan. But, It's always a good idea to take a few moments to prepare a gameplan on how to tackle each event and party that may come up this season. Having a few ideas in your back pocket, planning ahead, and knowing what you want to do will make your trip to Steamboat all the more enjoyable. Plus, you're here to relax and rest easy! Enjoy your time here in Steamboat, and if all else fails, there's always WildPlum grocery and alcohol delivery.
For more info about Steamboat Springs, CO check out these other great resources: