Valentine's Day is right around the corner, and couples and singles alike are scrambling to think of the perfect way to spend the holiday with their crush or special someone. Fortunately for those who find themselves in the Yampa Valley, few destinations are more romantic than Steamboat Springs! Steamboat in February is a perfect time to visit our own winter wonderland, and there are tons of options for how to spend Valentine's Day. Here are eight Steamboat date night ideas for Valentine's Day Weekend neither you, or your significant other, will soon forget!
1) Embark on an Adventure
You may be on a different skiing level than your partner, but don't let that stop you from enjoying the great outdoors together! To get #optoutside together, look into renting snowshoes and head over to the trails at Howelsen Hill or Rabbit Ears Pass. You can also visit the Steamboat Ski Touring Center.  With 30 Kilometers of Trails adjacent to Fish Creek Falls, there is plenty of adventure to be had, and wilderness to explore!
Local's Tip: Be sure to pack a lunch, some drinks, and a thermos for a lovely winter picnic! The Steamboat Winery has some to-go gift baskets & Valentines Day specials that would perfect.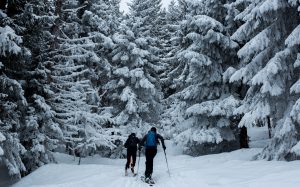 2) Meditate and Recreate
This year, practice yoga with your sweetheart – there are numerous mind and body benefits in the practice of Yoga! Get your minds and bodies in alignment, and try a meditation or a Yin yoga class at one of the yoga studios in Steamboat Springs. Set up your mat next to one another, focus on breathing, and work up a sweat. Rakta Hot Yoga, Out Here Yoga, and the Yoga Center of Steamboat offer numerous classes to chose from for all levels.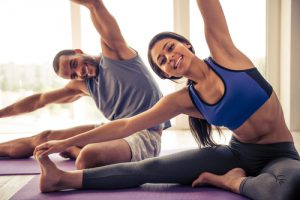 3) Celebrate Creativity, Art, and Beauty 
Perhaps the great outdoors is not your thing.  What could make for a more romantic date night than learning something new together? Sign up for a class at Warehome Studios and create some ceramic pieces to give to each other as gifts. Their small classes create an intimate environment perfect for you and your loved one to spend together. The pottery and memories that you create will be treasured for years to come.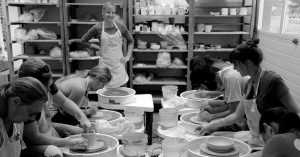 4) Schedule a Couples Massage
Life Essentials Day Spa offers their signature Steamboat's couples massage.  You and your loved one can receive a 60 or 90 minute massage while laying side by side. Book a Steamboat Couple's massage here and treat your significant other to a surprise they will not soon forget!  You can even purchase body oils at the spa to continue your own one on one massage at home.
Local's Tip: Staying at one of our Waterside Properties? Check out the Waterside Day Spa right below your condo and book some time in the rejuvenating Salt Room.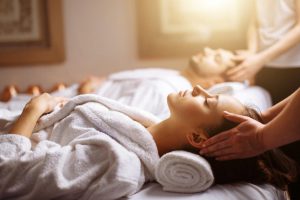 5) Book a Romanic Dinner for Two
We recommend  Café Diva for its excellent service, gourmet menu, romantic atmosphere, and proximity to the mountain. There are tons of options in Downtown Steamboat for a romantic dinner for two, our personal favorites are Sauvage, Table 79, Bésame, and The Laundry.
Local's Tip: For more information, check out Top 15 Restaurants in Steamboat Springs.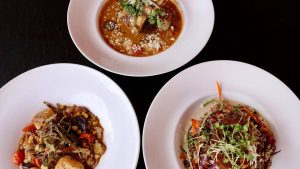 6) Don't Miss the Torchlight Parade!
Each year on Valentines Day weekend, Steamboat Ski Resort hosts a spectacular torchlight parade down the base of Mt. Werner. Watch as skiers illuminate the night with bright red torches.  The event starts according to sunset times and is followed by a Fireworks Display.
Local's Tip: Winter Carnival is Valentine's Day weekend, learn more about Steamboat Spring's 109th Winter Carnival.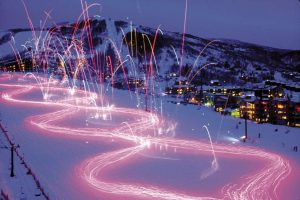 7) Venture up to Strawberry Park Hot Springs 
Want some romance in the woods? Strawberry Hot Springs are some of the most beautiful naturally occurring heated pools in North America. If you are feeling wild, head up at night when it's clothing optional after dark and no minors are allowed. Reservations are now mandatory, and spots fill up fast! Book well in advance.  Shuttles are available and are recommended given the winding road, which is slick and icy throughout much of the winter.
Local's Tip: Call ahead (970) 879-0342 to see if they have any availability for a romantic couple's massage!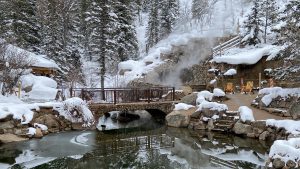 8) Indulge in a Brewery Tour
If you lovebirds are beer drinkers, one of the best things to do for Valentine's Day is to check out one of Steamboat's excellent craft breweries! There are several renowned breweries here in Steamboat that comprise a lovely tour through town – sip by sip. Try Storm Peak Brewery, Mahogany Ridge Brewery, and Mountain Tap Brewery!
Local's Tip: Looking for a little something extra, stop by Steamboat Whiskey Company for a night cap.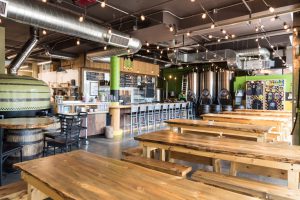 For more info about Steamboat Springs, CO check out these other great resources: